2022.02.25
ENECHANGE and Zeroboard collaborate to support corporate efforts to decarbonize
Providing one-stop service for visualizing greenhouse gas emissions and switching to renewable energy
ENECHANGE Ltd. (Head Office: Chiyoda-ku, Tokyo; Representative Director & CEO: Yohei Kiguchi; Representative Director & COO: Ippei Arita; hereafter:"the Company") and Zeroboard. Inc (Head office: Minato-ku, Tokyo; President: Michitaka Tokeiji) signed a business alliance agreement. Through the zeroboard service – a cloud service for calculating and visualizing greenhouse gas (GHG) emissions – and our ENECHANGE Biz service for corporate clients, we will provide a one-stop service for switching to electricity plans generated from renewable energy sources and for providing environmental value certificates, thereby encouraging corporate efforts to decarbonize.
Background
Recently, efforts to reach net zero have been accelerating around the world. With the expansion of ESG investment, in which financial institutions and investors focus not only on financial aspects but also on climate change and decarbonization when making investments and loans, companies are required to decarbonize their operations. With the restructuring of the Tokyo Stock Exchange in April, companies listed on the Prime market will be required to disclose information based on frameworks such as the Task Force on Climate-related Financial Disclosure (TCFD)*. The TCFD recommendations require companies to calculate and disclose GHG emissions not only for themselves but also for their entire supply chain. In addition to reducing the cost of electricity, we have seen an increase in the number of inquiries from companies that want to offer environmentally-friendly electricity plans.
*An organization established by the Financial Stability Board at the request of the G20 in December 2015 to promote the disclosure of information on how climate change will affect the finances of companies and institutions.
Our efforts in partnership with Zeroboard. Inc
We have concluded a business alliance agreement with Zeroboard in order to provide a one-stop proposal for corporate decarbonization efforts. In addition to ENECHANGE Biz, an electricity switching service for corporations, we also provide ENECHANGE Eco, a renewable energy introduction support service that handles environmental value certificates such as FIT non-fossil certificates with tracking (also known as Renewable Origin Certificates), as well as support for introducing energy-saving products and applying for energy-saving subsidies. Through Zeroboard's namesake "zeroboard" cloud service, which calculates and visualizes GHG emissions, we will be able to further improve our ENECHANGE Biz offering to help support corporate switching to renewable energy plans and the purchase of environmental value certificates as a one-stop service with the inclusion of GHG emission calculation and visualization.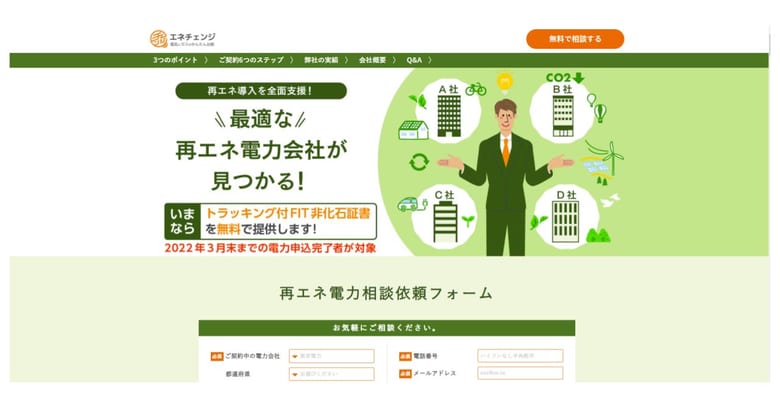 Image of the FIT Non-Fossil Certificate With Tracking website (Japanese Only)
FIT Non-Fossil Certificate With Tracking website (Japanese Only):https://enechange.jp/biz/renewable-energy
GHG Emissions Calculation and Visualization Cloud Service "zeroboard"
This cloud service enables the calculation and visualization of GHG emissions from corporate activities and their supply chains based on the GHG Protocol*2, an international standard.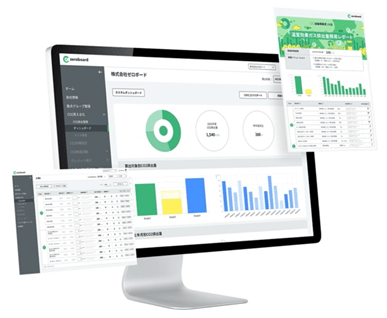 GHG Emissions Calculation and Visualization Cloud Service "zeroboard"
Comments from Michitaka Tokeiji, CEO of Zeroboard. Inc
We are honored that ENECHANGE, a rapidly growing decarbonization tech company, has evaluated our "zeroboard" and adopted it as part of their decarbonization support for businesses. Through this business alliance, we will support the calculation of supply chain emissions, which will be required to be disclosed in the future, in addition to the company's own emissions. At the same time, we will develop a one-stop service for effective energy-saving plans, and together we will contribute to the realization of decarbonized management and carbon neutrality.
Comment from ENECHANGE Ltd. executive officer, Kota Chishima
The importance of decarbonization management initiatives, such as disclosing management strategies that address climate change and setting targets for decarbonization, is increasing every year. Through this collaboration with Zeroboard, we are now able to provide a one-stop service from calculating GHG emissions to switching to renewable electricity. Leveraging the strengths of both companies, we will continue to support corporate customers in their efforts to promote decarbonized management.
About ENECHANGE Ltd.
ENECHANGE is an energy technology company that promotes a carbon-free society through digital technology with the mission of Changing Energy For A Better World. We offer services based on data utilization in the field of the 4Ds of Energy: Deregulation, Digitalization, Decarbonization, and Decentralization. Our company's roots come from an energy data lab at the University of Cambridge, U.K., a country where liberalization is mature. ENECHANGE has a British subsidiary, SMAP Energy Limited, as well as a global network and analytical technology for energy data.

URL: https://enechange.co.jp/en/
■For press inquiries, please contact
ENECHANGE Ltd. Public Relations
pr@enechange.co.jp