2021.05.25
ENECHANGE Starts Online Payment Platform for Energy Businesses with SB Payment Service
Supporting the energy industry going cashless through PayPay, LINE Pay, and other payment systems
ENECHANGE Ltd. (Head Office: Chiyoda-ku, Tokyo; Representative Director & CEO: Yohei Kiguchi; Representative Director & COO: Ippei Arita) and SB Payment Service Corp. (Head Office: Minato-ku, Tokyo; Representative Director and CEO: Jun Shinba; hereafter "SBPS") have formed a partnership to start EMAP Payment, an online settlement platform offered as a new service by EMAP, ENECHANGE's SaaS-style energy marketing service. Applications for this new service will start on Monday, May 31, 2021. This service will allow contractors of electricity/gas companies that utilize EMAP to use credit card payments, smartphone payments, and direct carrier billing to settle monthly electricity/gas charges, repair costs, and so on. Through this, ENECHANGE and SBPS will support the energy industry's move towards cashless payment of usage charges.

Behind the development of ENECHANGE's EMAP Payment
ENECHANGE provides EMAP to energy businesses, but we recognize that there are numerous issues regarding payment of service charges both for electricity/gas contractors and businesses. This led to us working with SBPS, who have a wealth of experience in the field, to develop EMAP Payment, an online payment platform. By adding this new function to EMAP, , it is now possible to pay via smartphone or carrier in addition to credit cards. These new payment options are becoming increasingly common.. We will work to support the digitalization and convenience of payments in the energy industry through EMAP Payment.
Key functions of EMAP Payment
When individual procedures are required, e.g. when signing new contracts for electricity or gas, or for missed payments, EMAP Payment can be used to send notifications directly to users' smartphones or computers via email or short messages.
Contractors can make payments for e.g. electricity/gas charges by selecting their preferred payment method from a dedicated web page.
It can also be used for one-time or irregularly recurring payments, including repairs or replacements, construction work, and device sales.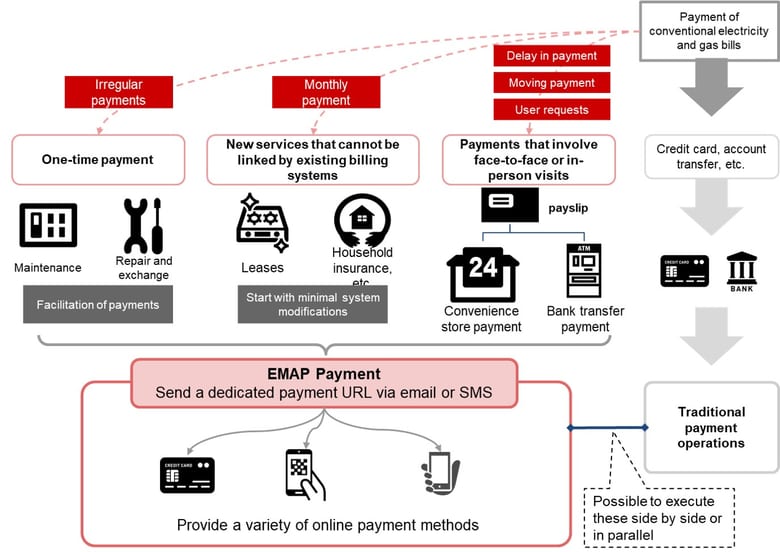 Payment methods accepted by ENECHANGE's EMAP Payment
| | |
| --- | --- |
| credit card payments | Visa、Mastercard, Diners Club International, JCB, American Express |
| smartphone payments | PayPay, LINE Pay |
| direct carrier billing | SoftBank, docomo, au |
About ENECHANGE's EMAP
EMAP (Energy Marketing Acceleration Platform) is a service to support SaaS-style energy marketing in order to increase digitalization and efficiency in the field of electricity/gas retail. It is provided on the basis of the knowledge, information, and technology assets ENECHANGE has accumulated through its operation of signature our electricity/gas switching platform. EMAP offers the following three services to power and gas companies, with EMAP Payment, an online payment platform, added as a fourth to this lineup.
1. The EMAP FRONT series: a platform that serves as a point of contact for users, providing electricity/gas charges simulations, accepting applications for new contracts or moving, and My Pages for contractors.
2. The EMAP DESK series: ensures the efficient operation of reception management operations during contract application and agent/partner management.
3. EMAP BPO: reduces the workload for back-office tasks such as operations, charge calculations, and so on for switching or moving.
4. (NEW) EMAP Payment: online payment platform.
Comment from Naoki Osada, Deputy General Manager, Sales Division, SB Payment Service Corp.
I am very pleased to be able to launch EMAP Payment, a settlement solution aimed at the energy industry, in partnership with ENECHANGE. I am confident that with EMAP Payment, we can not only provide users with simple, flexible payment experiences, but for businesses, we use the wealth of knowledge ENECHANGE has gained by its work in energy industry reforms to help improve customer-oriented business tasks. I hope to contribute to DX in the energy industry by firmly promoting our partnership with ENECHANGE.
Comment from Muneyuki Tsukahara, Assistant Manager, Energy Cloud Business Division, ENECHANGE Ltd.
These days, cashless payment services are becoming vastly more convenient, and there are increasing opportunities to use them, especially with smartphones that allow both online and offline payments. With this partnership with SBPS, we will launch an online payment platform in May 2021 that not only makes it simpler and more convenient to pay energy charges, but also helps improve business tasks. I hope that this new initiative to promote DX in the energy industry will live up to your expectations.
SB Payment Service Corp.
As a payment company, SBPS provides businesses with more than 35 different brands of payment methods that can be used in online stores. In addition, SBPS holds licenses for international credit card brands such as Visa, Mastercard, and UnionPay, and can provide one-stop services as both a payment agent and acquirer, from merchant screening, management operations, to provision of payment services. SBPS provides an advanced payment system that processes large-scale transactions of over 3 trillion yen per year, which means businesses can use it with peace of mind.
URL: https://www.sbpayment.jp/ *Japanese only
About ENECHANGE Ltd.
ENECHANGE is an energy technology company that promotes a carbon-free society through digital technology with the mission of CHANGING ENERGY FOR A BETTER WORLD. We offer services based on data utilization in the field of the 4 Ds of Energy: Deregulation, Digitalization, Decarbonization, and Decentralization. Our company's roots come from an energy data lab at the University of Cambridge, UK, a country where liberalization is well advanced. ENECHANGE has a British subsidiary, SMAP Energy Limited, as well as a global network and analytical technology for energy data.
URL: https://enechange.co.jp/en/
■Contact information
ENECHANGE Co., Ltd.
Mail: pr@enechange.co.jp