2021.07.14
ENECHANGE Partnerships Reach over 350, an Increase of 250% in Two Years
ENECHANGE Ltd. (Head Office: Chiyoda-ku, Tokyo; Representative Director & CEO: Yohei Kiguchi; Representative Director & COO: Ippei Arita) is pleased to announce that the number of partner companies that provide electricity switching support for households and businesses has steadily expanded. It has now surpassed 350 companies, a 250% increase in roughly two years from 2019.
As the number of partnerships increases, the number of touch points for the electricity switching experience increases, and users can expect to enjoy the benefits of saving money by switching electricity companies and plans.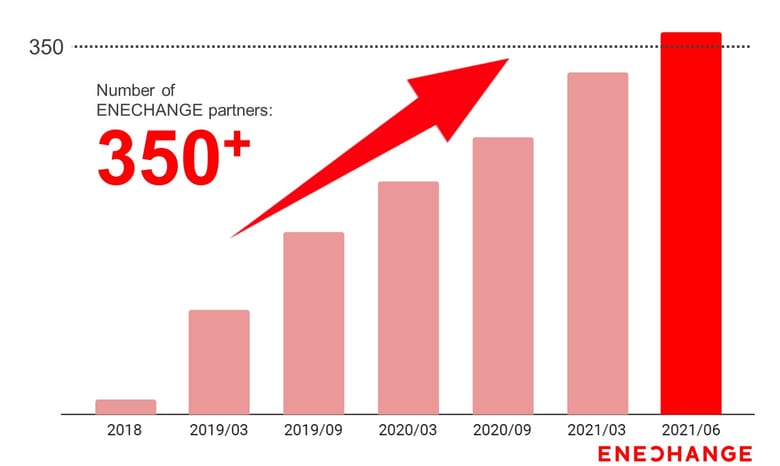 Characteristics of ENECHANGE partners
Partners of ENECHANGE, the electricity and gas comparison website for households, are actively pursuing partnerships with real estate companies specialized in relocation.. This will increase convenience for users by allowing them to switch energy companies alongside their moving procedures. It also plays a role in preventing problems such as no electricity at the new residence on move-in day.
Partners of ENECHANGE Biz, which provides support for companies switching to electricity, are expanding their sales channels by actively partnering with financial institutions, tax accountants, and energy conservation consulting companies. The number of applications for switching via partners has been increasing year by year, as reducing electricity bills by reviewing energy companies is a popular measure to reduce fixed costs for companies.
Voices from ENECHANGE Partners
≪For Households≫
Comments from a real estate company business planner
We are able to provide updated information so that we can always propose the most economical electric power companies to our tenants, and when we receive inquiries from tenants about the electric power companies we have introduced, ENECHANGE responds to them, so we can make proposals to our customers with peace of mind, even if we do not have in-depth knowledge. In terms of operations, we are able to perform on-site work. From an operational standpoint, we can also get maximum cooperation in efforts to reduce the workload at the site, which makes it easy to introduce energy companies as an ENECHANGE partner as a value-added service.
≪For Companies≫
Comments from a Branch Sales Representative at a Financial Institution
One of the management issues common to many of our clients is fixed costs. It is very helpful for us to reduce the burden on our branch sales staff with heavy workloads by being able to entrust the task of reducing electricity bills, which account for a large portion of the total cost, to ENECHANGE, through which we can compare multiple companies at once. Recently, there has been a growing interest in ESG private placement bonds for decarbonization, and I think it will become even more important for us to collaborate with financial institutions to provide support in terms of implementation, such as the specific introduction of renewable energy, in addition to financial support, which is their core business.
Comments from a tax accountant
In addition to being able to compare prices with other companies, the quotation is easy to understand, and ENECHANGE provides timely and appropriate follow-up, so we are able to have meetings with customers without hassle. Customers are very pleased with our proposal because they can save money and the procedures required for switching are not cumbersome. We would like to continue to implement as many of these customer-friendly electricity switching proposals as possible in the future.
About ENECHANGE Ltd.
ENECHANGE is an energy technology company that promotes a carbon-free society through digital technology with the mission of CHANGING ENERGY FOR A BETTER WORLD. We offer services based on data utilization in the field of the 4 Ds of Energy: Deregulation, Digitalization, Decarbonization, and Decentralization. Our company's roots come from an energy data lab at the University of Cambridge, UK, a country where liberalization is well advanced. ENECHANGE has a British subsidiary, SMAP Energy Limited, as well as a global network and analytical technology for energy data.
URL: https://enechange.co.jp/en/
For inquiries
ENECHANGE Ltd.
Mail: pr@enechange.co.jp