2022.07.25
ENECHANGE launches dedicated demand response services for businesses
ENECHANGE Ltd. is pleased to announce that it has launched a corporate demand response (DR) program,  SMAP DR Biz, to replace the DR service for households that it has been working on individually with electric power companies.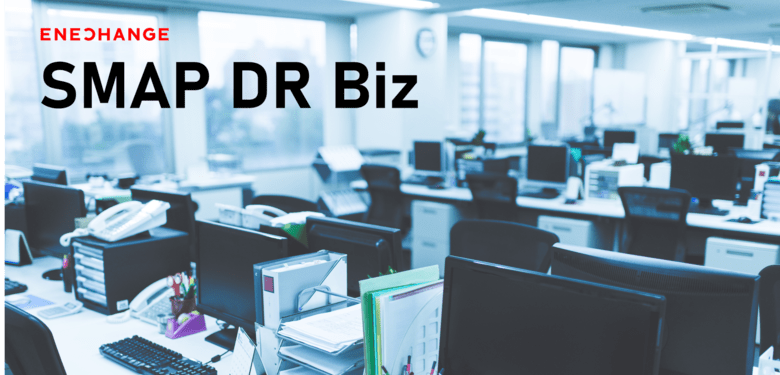 Background
As concerns over power shortages grow nationwide and energy conservation efforts are called for, the government is requesting the cooperation of households and corporations nationwide to save as much energy as possible. As with households, companies are also promoting DR as a voluntary energy-saving measure in times of tight power supply and demand. Against this backdrop, we are receiving an increasing number of inquiries from electric power companies that are interested in providing DR services to businesses as well.
About SMAP DR Biz
SMAP DR Biz is a platform that allows electric power companies to deploy DR programs for companies. Based on the DR program for households, we have prepared a dedicated user interface (UI) and platform for companies. As in the case of households, the power-saving request time slots for the following day are notified to the registered staff members by e-mail the evening of the day prior. The the company representatiev is asked to contact employees on the following day and/or the energy saving day to remind them how to use the office and to turn off lights in unused meeting rooms and office spaces. By offering benefits to participating companies, such as a discount on electricity rates based on the amount of electricity saved, greater energy-saving effects can be expected.
≪Benefits of Implementing DR for Corporates≫
1. Reduce electricity demand during peak hours more than ever before
Since electricity consumption by businesses is larger than that of ordinary households, providing a behavioral change DR program for businesses can be expected to have even greater power-saving effects than before. In addition, since the DR program can be triggered not only during times when the government and major power generation companies are requesting power supply and demand, but also in conjunction with the wholesale electricity trading market (JEPX), etc., it is expected that the implementation of the DR program for companies will greatly reduce demand during times when purchase prices are high.
2. Provide added value to companies through energy conservation cooperation and build long-term relationships
By implementing the DR program for companies, it is expected that they will increase their cooperation in responding to power conservation requests. The introduction of DR programs can also be used to strengthen the relationship between power companies and their customers.
3. Contribute to lowering emissionswith companies that address ESG and other environmental issues
Providing DR to companies will reduce electricity use and CO2 emissions. With the participation of many companies, we can expect stabilization of the supply-demand balance and energy savings. For companies, it will also be possible to promote this as a measure to respond to the ESG and Climate-related Financial Disclosure Task Force (TCFD).
About DR
If there is an imbalance between the amount of electricity used (demand) and the amount of electricity generated (supply), the supply can become unstable or cause power outages. Electric power companies adjust the amount of electricity generated while forecasting the amount of electricity used to achieve a stable supply on a daily basis. There are two types of DR: negative DR (reduced DR) and positive DR (increased DR). In summer and winter, when there is a risk that the amount of electricity generated will not be sufficient to meet the expected electricity consumption, DR is triggered to encourage users to change their behavior to lower their electricity consumption through energy conservation. On the other hand, "Posi-Watt" is DR that is activated in spring and fall, when the amount of electricity generated is higher than the expected usage, to encourage users to actively use electricity during these times to shift their peak usage.
About ENECHANGE Ltd.
ENECHANGE is an energy technology company that promotes a carbon-free society through digital technology with the mission of Changing Energy For A Better World. We offer services based on data utilization in the field of the 4Ds of Energy: Deregulation, Digitalization, Decarbonization, and Decentralization. Our company's roots come from an energy data lab at the University of Cambridge, U.K., a country where liberalization is mature. ENECHANGE has a British subsidiary, SMAP Energy Limited, as well as a global network and analytical technology for energy data.
URL: https://enechange.co.jp
■SMAP DR inquiries
ENECHANGE Ltd. SMAP Promotion Office
smapbiz.tokyo@smapenergy.com
■For inquiries
ENECHANGE Ltd.
pr@enechange.co.jp