2022.01.04
ENECHANGE New Year Message for 2022
I would like to extend my best wishes for the New Year. I would also like to express my heartfelt gratitude for your kindness and support during the past year.
Looking back in 2019, when environmental activist Greta Thunberg began to be featured in various media, a decarbonized society was still seen as an utopia. In 2020, with the Suga administration in Japan and the Biden administration in the U.S., carbon neutrality targets for 2050 were set in countries around the world but a decarbonized society was still "far in the future". In 2021, decarbonization became a "hot topic" in Japan, which we see reflected in the decision to require listed companies on the Tokyo Stock Exchange to disclose the impact of climate change on their business performance, Toyota's announcement of its electric vehicle (EV) strategy, and many other news articles about decarbonization that we see daily.
In 2022, we believe that the decarbonization revolution will become a "personal" matter. Beginning in April, companies listed on the TSE prime market will be required to disclose their carbon emissions. As for EVs, Toyota and other major companies in Japan, as well as American, European and Chinese manufacturers, are planning to start selling EVs in Japan. The purchase of an EV will become a popular option for many homes in Japan.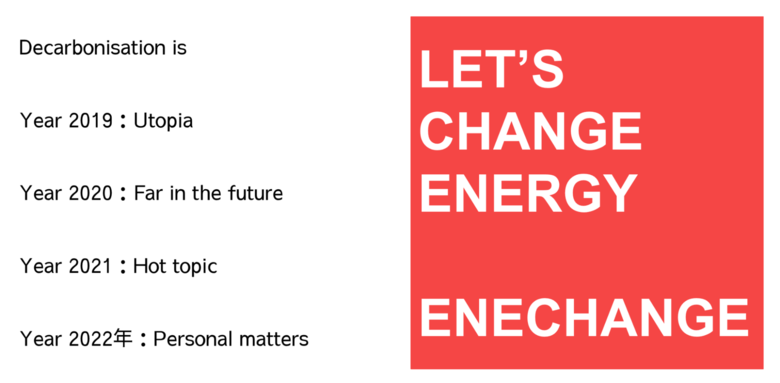 This year, we will send out the message, "Let's change energy, ENECHANGE". We will invest the 3.8 billion yen we raised at the end of last year to accelerate growth. As we have already announced that we expect to finish with a negative profit in 2022 due to aggressive investment in the following businesses, we are going to focus on the sales growth.
In the Platform business, we will accelerate growth by aggressively investing in advertising. With the electricity switching market having reached a point where approximately 30% of corporations and 20% of households have switched as of the end of June 2021, we see that the market has crossed the early adoption chasm and has now entered a period of rapid growth. By securing the number one position in energy switching in Japan, we aim to establish stable recurring revenue over the medium term.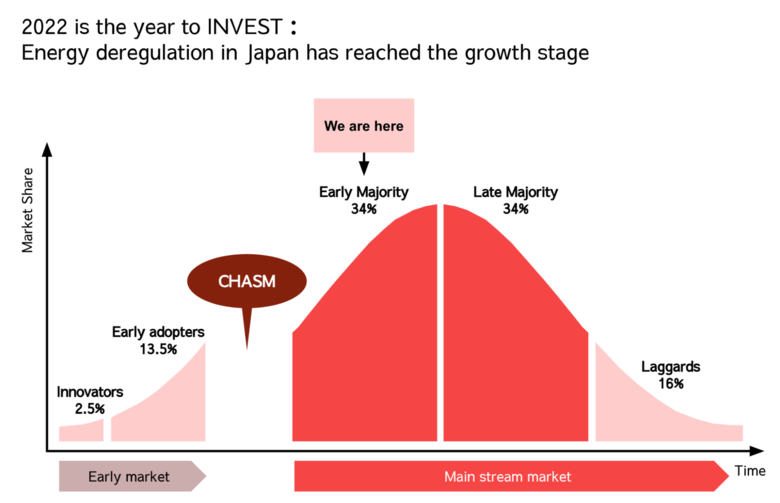 In the Data business, our short-term aim is to install 3,000 EV public charging stations in Japan and prepare to compete with major overseas companies in the number of Level 2 chargers installed. By leveraging our customer base, software development capabilities, and overseas network, we aim to quickly establish the number one position in the EV charging field in Japan and make this a medium- to long-term growth business.
Lastly, I would like to express my sincere regret that the share price has remained below the public offering price of 5,584 yen (2,792 yen after the 2-for-1 split) despite the support of many shareholders. This is a very disappointing situation for us, and our top priority is to make up for it as soon as possible. Promoting the energy transition and decarbonization are big themes that are poised to grow over the next 10 years, and our business foundation as the leading energy tech company in Japan is being established day by day. By continuing to invest and make steady progress in our business, we will do our best to recover the stock price as soon as possible. We hope you will understand.
We look forward to your continued support in the coming year. I would like to extend my best wishes for your continued good health.
ENECHANGE Ltd. Representative Director & CEO
Dr. Yohei Kiguchi
About ENECHANGE Ltd.
ENECHANGE is an energy technology company that promotes a carbon-free society through digital technology with the mission of Changing Energy For A Better World. We offer services based on data utilization in the field of the 4Ds of Energy: Deregulation, Digitalization, Decarbonization, and Decentralization. Our company's roots come from an energy data lab at the University of Cambridge, U.K., a country where liberalization is mature. ENECHANGE has a British subsidiary, SMAP Energy Limited, as well as a global network and analytical technology for energy data.
URL  :https://enechange.co.jp/en
■Contact
ENECHANGE Ltd. Public Relations
Mail:pr@enechange.co.jp