2021.08.25
Launching an initiative to share experiences – creating a strong organization with 20% of employees commuting to office, 1.5 years after the introduction of remote work system
ENECHANGE Ltd. (Head Office: Chiyoda-ku, Tokyo; Representative Director & CEO: Yohei Kiguchi; Representative Director & COO: Ippei Arita) has introduced its College Forum, a new initiative to create a strong organization through increased employee engagement and productivity. The initiative is being introduced while still limiting the ratio of employees coming into the office to 20-30%, a year and a half since the introduction of remote work policies.
The current status of ENECHANGE's hybrid work style
Since the first declaration of the state of emergency in March 2020, the Company has introduced a remote work system where employees work in a hybrid work style. This is a combination of working at the office and working from home, thereby reducing the ratio of employees commuting to the office to around 20%. Since the start of this system, productivity has remained high. Even today, about 80% of employees responded that they can work productively both at the office and from home. This is because they have become accustomed to remote work, and their home working environment has improved.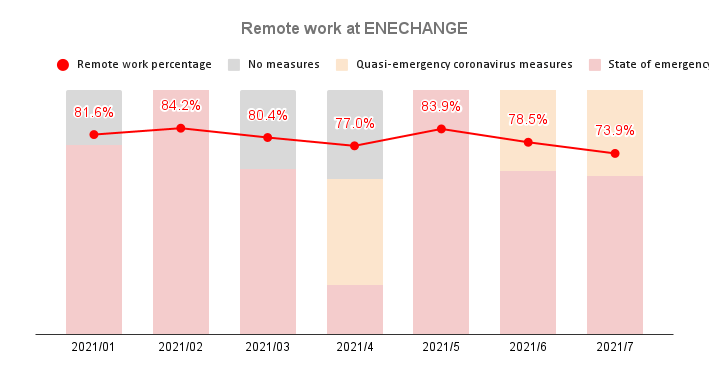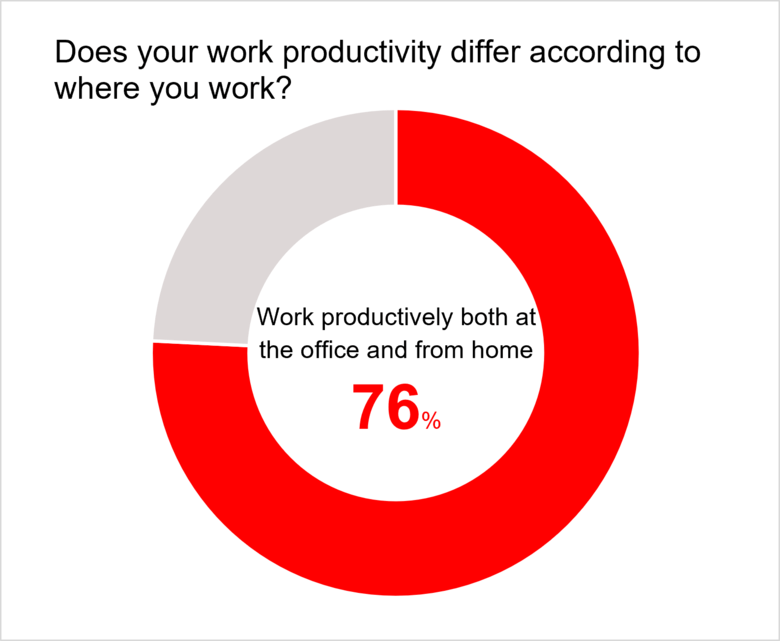 During the period of the declaration of a state of emergency and the quasi-emergency coronavirus measures, the Company took actions to keep the percentage of employees coming to the office below 30% in principle. All in-person activities with eating or drinking have been suspended, including measures to enhance communication among employees, as set forth in the With Corona Declaration announced in May 2020. As a result, a high number of employees have expressed their wish to work at the office at times. We found that 97% of employees feel a need for work or communication face-to-face, whether it be frequently (39%) or once or twice a week (58%). One of the main reasons for employees wanting to come to the office is the desire to improve upon communication. For example, it is difficult to casually inquire about things while working from home (24%), the information they can get from the people around them has declined (19%), and difficulty in engaging in casual conversation (17%). In addition, we learned a certain number of employees felt working from the office could improve the psychological aspect of their working environment. If they can work in an environment where they can see other people's faces, they can feel a sense of security and feel less lonely.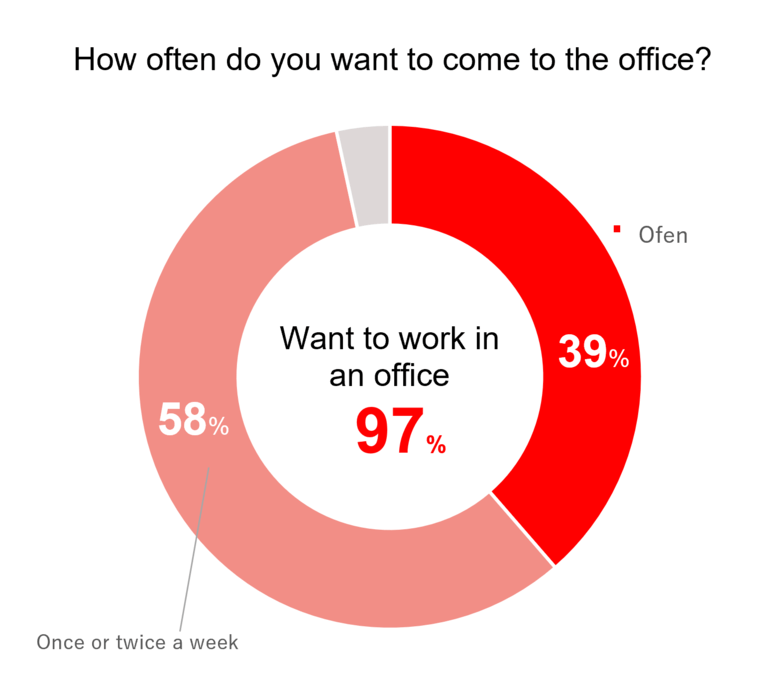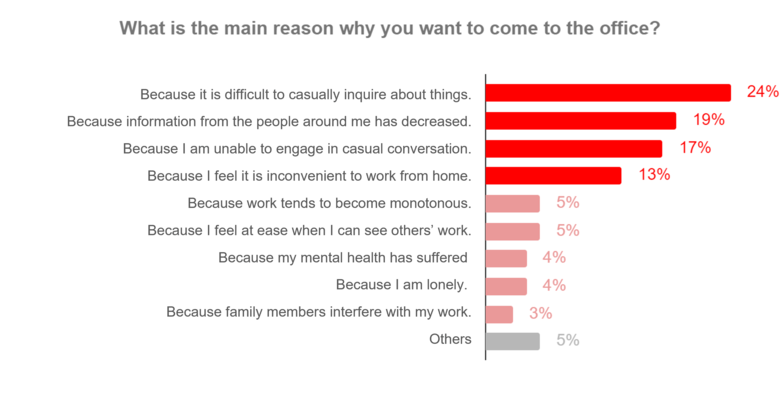 On the other hand, in terms of the ideal pattern of coming to the office, 63% of employees preferred to come to the office one or two days a week, and 34% preferred to come to the office less than one day a week. Not a single employee said they wanted to come to work five days a week, as was the case before COVID-19.
Introducing College Forum, a system to create a strong organization through sharing experiences
In August, we will launch a new College Forum system for sharing experiences. It is an initiative to overcome the two conflicting feelings of employees: not wanting to increase the number of times they come to the office, and their desire to connect with each other in order to facilitate their work and enhance their individual motivation. As the Company is a venture company with roots at the UK's University of Cambridge, we have for some time been implementing a College System modeled after the system used at Cambridge University. Under the College System, employees from different departments and job categories belong to one college, and the College Forum has been functioning as an opportunity for college members to build horizontal ties beyond the boundaries of divisions and job categories. The new College Forum will be held once is a month gathering of College members to share their experiences for about three hours.The goal is to encourage the building of interpersonal relationships and trust that transcend departmental boundaries through the sharing of experiences. The members share events and issues that have happened to them during the past month and by sharing their experiences with other College members, they can discuss their experiences with each other, which will help them to achieve, learn and grow in their future work.
*The College Forum will be implemented under conditions of psychological safety based on strict rules and regulations, including strict confidentiality. In addition, during the Declaration of a State of Emergency period, it will be conducted online rather than face-to-face.
As initiatives to share experiences, ENECHANGE has also established other programs with the goal of building a strong organization. One of them is the Mission/Values Award System to recognize employees who have undertaken initiatives that embody the company mission and values. We also hold study sessions for employees by energy professionals.
About ENECHANGE Ltd.
ENECHANGE is an energy technology company that promotes a carbon-free society through digital technology with the mission of CHANGING ENERGY FOR A BETTER WORLD. We offer services based on data utilization in the field of the 4 Ds of Energy: Deregulation, Digitalization, Decarbonization, and Decentralization. Our company's roots come from an energy data lab at the University of Cambridge, UK, a country where liberalization is well advanced. ENECHANGE has a British subsidiary, SMAP Energy Limited, as well as a global network and analytical technology for energy data.
URL: https://enechange.co.jp/en/
For inquiries
ENECHANGE Ltd.
Mail: pr@enechange.co.jp