2022.03.28
Honorees of Energy Innovation Program ENECHANGE Insight Ventures 2021(2H – Cohort 2 ) Announced. Three energy ventures with solutions for EV charging platform, Carbon Capture, and swappable battery charging station awarded as Honorees
ENECHANGE Ltd. (Head office: Chiyoda-ku, Tokyo, CEO: Yohei Kiguchi, COO: Ippei Arita; hereafter: ENECHANGE) are pleased to announce that three companies, AmpUp (US), Svante (Canada) and Swobbee (Germany), have been selected as Honorees in the second cohort of energy innovation program ENECHANGE Insight Ventures 2021 (EIV2021), organized by ENECHANGE. The ceremonies at the EIV2021 Summit, which was held online on Wednesday, March 23 and Thursday, March 24, included a talk session with the three Honorees.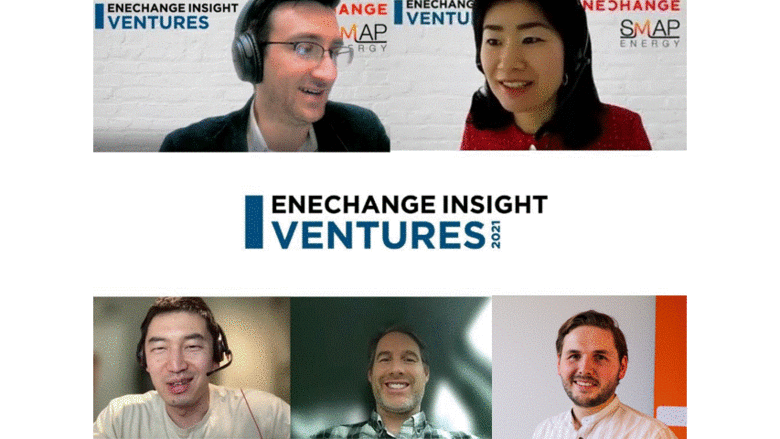 EIV2021 focused on Japan's Green Growth Strategy, which sets out plans for carbon neutrality by 2050. The team screened over 600 ventures, mainly from Europe and the U.S., with cutting-edge technologies in this field. The list was narrowed down to 15 companies, who were invited to participate in this edition's cohort. The Honorees were selected after a series of interviews and collaborative discussions with the ENECHANGE Group and 15 Japanese sponsors.
The three companies selected this time are: AmpUp (US), which develops platform for charging electric vehicles (EVs); Svante (Canada), which provides commercial-scale carbon capture solutions with lower capital costs; and Swobbee (Germany), which provides a swappable battery station and managing platform for micromobility.
EIV is a joint effort by Japanese energy-related companies to accelerate and revitalize innovation in the Japanese market by aiming to match more global energy tech companies with domestic energy companies. The event was launched in 2018 as the Japan Energy Challenge (JEC) and changed its name to EIV this year. This year's event is the fifth time it is held since inception.
ENECHANGE Insight Ventures 2021 (2H) Honorees (3 Companies)
Company name

Field
Business/Service

AmpUp




(US)

Transportation

EV charging platform

The company has been growing rapidly in recent years due to its smooth user experience in the initial set-up performed by drivers and installers. Comprehensive features such as smart scheduling, dynamic access control and power optimisation as well as P2P functionality that can be monetized by individual EV charging owners

Svante




(Canada)

Carbon Recycling

Carbon capture

The company offers carbon capture solutions to industries where carbon dioxide emissions are unavoidable, such as cement production and steelmaking, a commercially viable way to make capital investments for large-scale CO2 capture from existing facilities at half the cost of conventional methods.

Swobbee




(Germany)

Energy Storage and Automotive

Batteries-as-a-Service

It provides a platform for analyzing and managing replaceable batteries and their services. Battery swapping allows for full charging in 60 seconds. Used mainly in Europe for e-micromobility, shared bikes and last mile logistics.
Comments from Cohort Winners
Thomas Sun, co-founder and CEO of AmpUp
'AmpUp is proud to be selected as an ENECHANGE Insight Ventures Honouree. As an EV charging software provider, we are eager to work with the government and businesses to help Japan decarbonise transportation and make EV charging commonplace for decades to come.'
Brett Henkel, co-founder and VP of Strategic Accounts and Government Affairs of Svante
Svante's leading Carbon Capture technology is a powerful tool that can be used to help Japan reach its net zero target by 2050. Through ENECHANGE Insight Ventures, we had the opportunity to gain even greater insight into the energy market in Japan and access to like-minded industry leaders.
Ludwig Speidel, CFO at Swobbee
We are thrilled that Swobbee is one of the Honourees of ENECHANGE Insight Ventures. The programme gives us valuable insights into the Japanese market, which is leading in both seminal and sustainable energy solutions. We are looking forward to connecting to relevant market players in Japan and exploring market opportunities to possibly contribute to Japan's climate protection objectives with our advanced battery swapping system for the whole micromobility sector.
EIV2021 Subscribers (Sponsor Companies) (15 companies)
※Japanese alphabetical order
pro

Astomos Energy Corporation, ENEOS Corporation, KDDI Corporation, Tohoku Electric Power Co.,Inc., Panasonic Corporation, Mitsui Sumitomo Insurance Company,Limited, Mitaden co.,ltd., Nihon Unisys, Ltd., Looop Inc.

Basic

OSAKA GAS Co., Ltd., Shimizu Corporation, Toshiba Energy Systems & Solutions Corporation, JGC Japan Corporation, Hokuriku Electric Power Company, Rakuten Energy. Inc.

Sponsor & Organizer

ENECHANGE Ltd.
Comment from Yohei Kiguchi, Representative Director & CEO of ENECHANGE Ltd. (organizer of EIV)
During the first cohort of EIV 2021, we highlighted technologies from EV and VPP-related solutions to carbon footprint calculation methodologies, all of which are essential to realizing a decarbonized society. As part of this second cohort, we have selected three ventures that contribute to the use of sustainable energy, from an EV charging platform to micromobility battery swapping and economical carbon capture.
EIV only started in 2018, but since then we have had several of our alumni find success in Japan. We hope that these three Honourees will be able to break into the Japanese market and help realize net zero in Japan. Using our international network, gained by us being a U.K.-founded company, we will continue to actively foster relationships and discover overseas start-ups with innovative decarbonization technologies, with the view to provide opportunities to enter the Japanese market.
About ENECHANGE Ltd.
ENECHANGE is an energy technology company that promotes a carbon-free society through digital technology with the mission of Changing Energy For A Better World. We offer services based on data utilization in the field of the 4Ds of Energy: Deregulation, Digitalization, Decarbonization, and Decentralization. Our company's roots come from an energy data lab at the University of Cambridge, U.K., a country where liberalization is mature. ENECHANGE has a British subsidiary, SMAP Energy Limited, as well as a global network and analytical technology for energy data.
URL: https://enechange.co.jp/en/
■For inquiries
ENECHANGE Ltd.
pr@enechange.co.jp