2021.06.18
ENECHANGE begins pre-order sales of FreeWire's Boost Charger™, ultrafast battery-integrated electric vehicle chargers capable of 120kW high output under low-voltage ~Entering the electric vehicle charging infrastructure-related software business~
ENECHANGE Ltd. (Head Office: Chiyoda-ku, Tokyo; Representative Director & CEO: Yohei Kiguchi; Representative Director & COO: Ippei Arita) will begin pre-order sales of the Boost Charger™, ultrafast battery-integrated electric vehicle chargers for electric vehicles (EVs), from American-based FreeWire Technologies Inc. (Head office: California, USA, CEO: Arcady Sosinov), from Monday, June 21, 2021. The Boost Charger™ is equipped with a powerful 160 kWh battery capacity and can be installed in  low-voltage systems; hence, it can be installed anywhere, reducing installation costs. Sales of the Boost Charger™ will be carried out under a distribution agreement with Bell Energy Inc. (Head office: Tsukuba City, Ibaraki Prefecture, CEO: Katsuzo Suzuki), FreeWire's reseller for the Japanese market.
The Japanese government has adopted a policy of 100% electrification of new passenger car sales in Japan by 2035, with the aim of achieving carbon neutrality by 2050. In a Cabinet meeting in June, the government included a target of increasing the number of quick chargers for EVs to 30,000 by 2030, about four times the number today, as part of infrastructure development to increase convenience for drivers and promote the proliferation of EVs. We will also work to develop a new scheme that contributes to the popularization of EVs and the expansion of recharging infrastructure by marketing the Boost Charger™, an ultrafast battery-integrated electric vehicle charger, and providing billing, settlement, and customer management software services for customers.
About Boost Charger™, FreeWire's ultrafast battery-integrated electric vehicle charger
Product Features
An ultrafast charger that can be installed anywhere and used by anyone, compatible with low-voltage power
1. Equipped with two CHAdeMO protocol charging ports
Equipped with 160 kWh of powerful battery capacity, it delivers high power and enables charging up to 100 kW with one outlet or up to 120 kW in total with two outlets simultaneously (60 kW per outlet). Capable of charging approximately 100 kWh in one hour.
2. Delivers high 120 kW output even under low voltage
Typically, a high-voltage system is required for the installation of a quick charging facility, and a high-voltage power-receiving facility referred to as a cubicle must be installed. This means that the space for installing a cubicle and the security and inspection costs for maintaining the equipment are also high. In contrast, Boost Charger™ can store power supplied under low-voltage, namely 27 kW, in storage batteries temporarily and deliver it under 120 kW high-voltage,eliminating the need to install a cubicle.It can provide ultrafast charging services in a minimum of space.

3. Available to anyone with a credit card
It supports payment by scanning of credit cards and contactless payment by smart cards, thus can be used by anyone without membership registration. (Currently supported brands are VISA and MasterCard, with plans to expand as needed)
4. Compatible with both time and kWh billing
The Boost Charger™ supports both time billing and kWh billing, and after the implementation of the Specified Power-Measurement System in Japan scheduled for April 2022, billing by kWh (metered billing) will be possible. Since the charging efficiency of EVs varies depending on the battery status, the amount of charge may differ even with the same charging time. If it becomes possible to charge based on the amount of charge instead of the time, it will be possible to provide charging services at a fair price to users.
Product Overview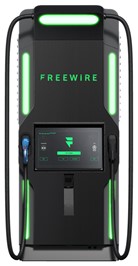 The role of our company
We, in addition to selling the Boost Charger™, will provide software services to help customers use the charger. Boost Charger™ charging stations can be operated from the station owner's My Page or App, allowing for tariff setting and billing method changes for each Boost Charger™. We will also propose best tariff plans based on the operating status of EV stations and provide a Dynamic Pricing System, an automatic tariff-setting system that sets the electricity unit price in conjunction with the market price of the Japan Electric Power Exchange (JEPX). By reaping the benefits of charging during times when electricity rates are low, we expect that this will diversify the timing of charging and reduce the load on the power system.
In the future, we plan to develop a management system for EV station owners and applications for EV users. We will be offering a variety of software services for effectively utilizing EVs and EV chargers, which are expected to expand in popularity in the future.
FreeWire's international track record
In its sixth year since its founding, the company has attracted $100 million (approximately ¥11 billion) in funding, including an additional $50 million (approximately ¥5.5 billion) in January 2021. The company partners with bp, the United Kingdom's largest energy company, and the Boost Charger™ will be instrumental in bp charging network provider, bp pulse's plan to install fast chargers at up to 700 locations across the U.K. by 2025.
Comments from Arcady Sosinov CEO, FreeWire Technologies
As Japan scales up its charging infrastructure to meet growing EV adoption, it is critical to deploy ultrafast chargers that are cost-effective and free from the limitations of the traditional power grid. We are excited to partner with ENECHANGE to install our battery-integrated Boost Chargers throughout Japan to enable ultrafast EV charging at all locations without expensive and burdensome grid upgrades.
Comments from Yohei Kiguchi, Representative Director & CEO, ENECHANGE Ltd.
The appeal of the Boost Charger™, an ultrafast battery-integrated electric vehicle charger, is that it is the only technology in the world that allows installation under low-voltage power of less than 50 kW. This is thanks to a unique technology that incorporates large storage batteries. Since power voltage equipment (such as cubicle equipment required for high voltage power) is not required, it is easier to install and cheaper to maintain, thus solving many of the problems that have hindered the penetration of quick chargers in Japan. The Japanese government has also set a goal of quadrupling the number of electric vehicle charging equipment installations by 2030, so we intend to use this partnership as a pivot to enter the electric vehicle charging equipment software-related business.
About FreeWire Technologies Inc.
FreeWire's turnkey power solutions deliver energy whenever and wherever it's needed for reliable electrification beyond the grid. With scalable clean power that moves to meet demand, FreeWire customers can tackle new applications and deploy new business models without the complexity of upgrading traditional energy infrastructure. FreeWire has deployed battery-integrated chargers with Fortune 100 companies, commercial customers, fleets, retail locations, and gas stations. In addition to the expanded partnership with bp pulse, FreeWire and ampm, a bp subsidiary and convenience store chain with over 1,000 locations, have already deployed multiple public charging stations in the U.S.
URL: https://freewiretech.com/
About ENECHANGE Ltd.
ENECHANGE is an energy technology company that promotes a carbon-free society through digital technology with the mission of CHANGING ENERGY FOR A BETTER WORLD. We offer services based on data utilization in the field of the 4 Ds of Energy: Deregulation, Digitalization, Decarbonization, and Decentralization. Our company's roots come from an energy data lab at the University of Cambridge, UK, a country where liberalization is well advanced. ENECHANGE has a British subsidiary, SMAP Energy Limited, as well as a global network and analytical technology for energy data.
URL: https://enechange.co.jp/en/
For inquiries
ENECHANGE Ltd.
Mail: pr@enechange.co.jp