2023.10.31
ENECHANGE and Iwate Bank Cooperate to Expand EV Charging Infrastructure in the Tohoku Region
Introductions Confirmed in Iwate, Aomori, and Miyagi Prefectures by January 2024
ENECHANGE Ltd. (hereafter: "the Company") has reached an agreement to promote ENECHANGE EV Charge through a new strategic partnership with Iwate Bank. Through this collaboration, we will promote the development of EV charging infrastructure in the Tohoku region, centered in Iwate Prefecture.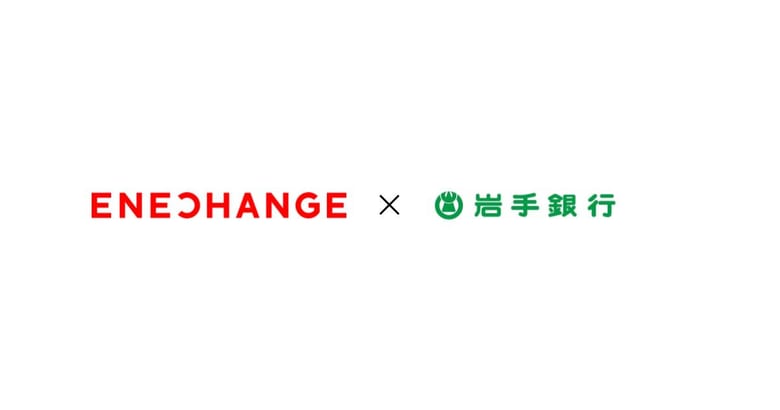 Background
The government has set a goal of making the ratio of electric vehicles in new car sales 100% by 203. In order to reach this goal, the government has announced new guidelines to increase the target of EV charging port installations from 150,000 to 300,000 by 2030. In particular, the target for destination charging for public use is set between 100,000 to 150,000 ports, and more than 10,000 charging port installations are required annually to reach this.
In the Tohoku region, the issue of decreasing petrol stations due to aging business owners and lack of successors has arisen. A 20% decrease in petrol stations has been observed from 2013 to 2023*. Immediate efforts are needed to transition private vehicles to EV and to promote the installation of EV charging ports in order to realize a future decarbonized society and maintain transportation infrastructure.
*Calculated based on the transition in the number of petrol stations in the Tohoku region from March 2013 to March 2023, as stated in the "Number of Volatile Oil Sellers and Petrol Stations" announced by the Agency for Natural Resources and Energy under the Ministry of Economy, Trade and Industry in July 2023.
ENECHANGE's initiatives
The Company has set a target of investing up to 30 billion yen to install 30,000 EV level 2 charging ports by 2027. We are particularly focused on destination charging, and the Company is proactively installing 6kW Level 2 charging ports in commercial facilities, leisure facilities, lodging facilities, and golf courses where the parking time is 2 hours or more, and we have a proven track record as the number one provider*. As a strategy to promote installation, we are strengthening our collaboration with partner companies.
*Number of installed EV charging ports by a secure app-based service provider (as of October 2023, according to GoGoEV).
Iwate Bank's contribution to the region
Iwate Bank is a community-oriented bank that aims for regional development through diverse financial services. It boasts the largest network of branches in Iwate Prefecture and also has branches in Aomori, Akita, and Miyagi prefectures. In September 2019, it established the "Iwagin Group SDGs Declaration", committing to using 100% renewable energy in its branches. Additionally, it actively collaborates in the development of public infrastructure for regional decarbonization, such as financially supporting the construction and operation of renewable energy power plants within Iwate Prefecture.
Details and outlook of the partnership
Through this partnership, ENECHANGE and Iwate Bank will promote ENECHANGE EV Charge to Iwate Bank's customer base in Tohoku, including Yahaba Town Hall in Iwate Prefecture and the restaurant Kanibe Masamune in Sendai City, Miyagi Prefecture by January 2024.
Overview of Iwate Bank Ltd.
As a leading bank in Iwate Prefecture, Iwate Bank builds customer trust through stable funding for the region and provision of value-added information and financial services. In recent years, it has not only focused on financial services but has also established a consulting subsidiary and a regional trading company. It aims to offer "regionally focused consulting" to meet customers' needs, simultaneously solving regional issues and helping the region to meet its full potential.
Name: Iwate Bank Ltd.
Address: 1-2-3 Chuo-dori, Morioka, 020-8688, Japan
URL: https://www.iwatebank.co.jp/
ENECHANGE EV Charge
ENECHANGE EV Charge is an all-in-one service to install charging facilities for electric vehicles at condominiums, commercial facilities, lodging facilities, and other destination locations starting at 0 yen per month. It currently has the highest number* of installed EV charging ports in Japan. ENECHANGE EV Charge also offers a variety of services for EV users. Not only can you search for charging spots, but anyone can use the charger at any time, paying only for what you use without a monthly fee. Charging is also possible using the charging cards issued by e-Mobility Power and various car companies. Its user-friendly design has been recognized with Good Design Award for the fiscal year 2023.
URL: https://ev-charge.enechange.jp/
X: https://twitter.com/enechange_ev
ENECHANGE Ltd.
ENECHANGE is an energy technology company that promotes a carbon-free society through digital technology with the mission of Changing Energy For A Better World. We offer services based on data utilization in the field of the 4Ds of Energy: Deregulation, Digitalization, Decarbonization, and Decentralization. Our company's roots come from an energy data lab at the University of Cambridge, U.K., a country where liberalization is mature. ENECHANGE has a UK subsidiary, ENECHANGE Innovation Limited, as well as a global network and analytical technology for energy data.  
URL: https://enechange.co.jp/en/
■For inquiries
ENECHANGE Ltd.
pr@enechange.co.jp