2023.07.28
ENECHANGE to Install 6kW EV Charging Ports at Two APA Hotels in Ibaraki and Gunma Prefectures
Other franchise hotels to follow
ENECHANGE Ltd. ("the Company") is pleased to announce that it has installed a total of four 6kW charging ports under the ENECHANGE EV Charge service  in the parking lots for guests of APA Hotel. APA Hotel is a hotel chain franchised in Ibaraki and Gunma prefectures by Hito Communications Co., and we plan to install them at two other franchise locations in both prefectures.
Background
The government has set a goal of 100% low emission vehicles in new passenger car sales by 2035. Simultaneously, ENECHANGE has set a goal of investing up to 30 billion yen to install 30,000 EV charging ports in Japan by 2027. In particular, the Company is focusing on destination charging, and is actively promoting the installation of 6kW charging ports at commercial facilities, leisure facilities, golf courses, and other places where people stay for two hours or longer. In particular, charging facilities at overnight lodging facilities are considered important for EV drivers in their travel plans, and demand for 6kW charging ports is increasing as they can almost fully charge EVs overnight. The government subsidy program "Subsidy for Promoting the Introduction of Clean Energy Vehicles and Infrastructure" can be applied to installation, and installation is accelerating with our Zero Yen for Installation Campaign.
Hito Communications Co. (hereafter: "Hito Communications") operates APA Hotel Isesaki Ekiminami in Isesaki City, Gunma Prefecture and APA Hotel Ibaraki Koga Ekimae in Koga City, Ibaraki Prefecture. Theysigned a franchise agreement with APA Group in 2014. Their hotels have been recognized for their high-quality service within the APA Hotel Group, and won the grand prize for "Best Franchise Hotel of the Year". Hito Communications currently operates five APA Hotels in Gunma, Tochigi, and Ibaraki prefectures, and last year installed an EV charging port from another EV charging service provider at APA Hotel Utsunomiya Ekimae. The installation of the 6kW charging port by ENECHANGE was selected because of its ease of use and time efficiency for drivers, as well as the fact that the hotel does not need to make any payments or hand over keys to the charging port. In addition, the ENECHANGE charging port can be installed directly on the wall. Another key factor in the decision to install the system is that it can be installed while retaining the existing parking space, without changing the wheel wells or parking lines. This wall-mounted version is increasingly being selected for installation in parking lots with limited space and underground parking.
≪Location≫
Facility Name: APA Hotel Isesaki Station South
Location: 23-12 Otemachi, Isesaki-shi, Gunma
Number of EV charging ports installed: 2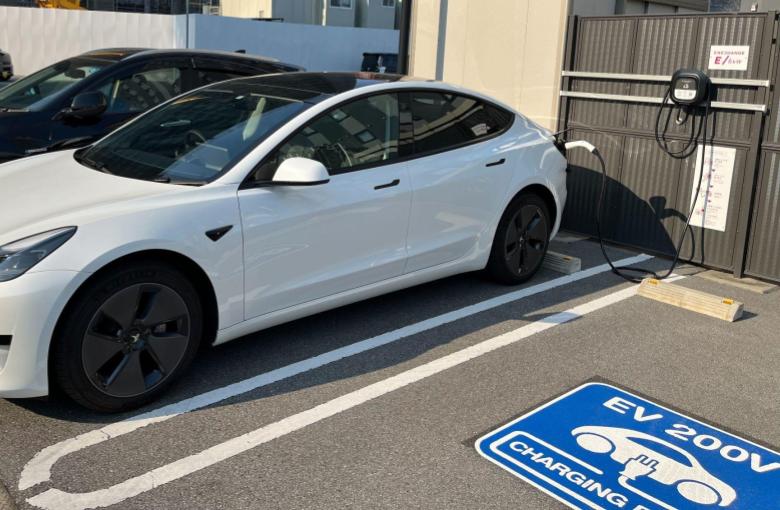 ≪Location≫
Facility Name: APA Hotel Ibaraki-Koga Ekimae
Location: 1-21-12 Higashi-Honcho, Furukawa-shi, Ibaraki
Number of EV charging ports installed: 2
≪Charging Port Overview≫
Model installed: Charge 2
Authentication type: ENECHANGE EV Charge app, charging cards
・Maximum output: 6kW *capable of charging at twice the speed of ordinary 3 kW chargers
・Connector: Type 1 standard, usable with all EVs and PHVs *Tesla requires a conversion adapter
・Voltage: 200V (AC)
・Charging cable length: approx. 5 m
ENECHANGE EV Charge
ENECHANGE EV Charge is an all-in-one service that allows installation of charging facilities for electric vehicles at commercial facilities, lodging facilities, and other destination locations, as well as condominiums, with minimal installation and operation costs starting at 0 yen per month. It currently has the highest number* of installed EV charging ports in Japan. ENECHANGE EV Charge also offers a full range of services for EV drivers. In addition to searching for charging spots, anyone can use the charging ports at any time, with an appealing pay-as-you-go system without monthly fees. ENECHANGE EV Charge charging ports are now also compatible with e-Mobility Power-linked charging cards issued by various automotive OEM, further increasing convenience.
URL: https://ev-charge.enechange.jp/
Twitter: https://twitter.com/enechange_ev
*Number of installed EV charging ports (6kW) by a secure app-based service provider (as of May 2023, according to GoGoEV).
ENECHANGE Ltd.
ENECHANGE is an energy technology company that promotes a carbon-free society through digital technology with the mission of Changing Energy For A Better World. We offer services based on data utilization in the field of the 4Ds of Energy: Deregulation, Digitalization, Decarbonization, and Decentralization. Our company's roots come from an energy data lab at the University of Cambridge, U.K., a country where liberalization is mature. ENECHANGE has a British subsidiary, SMAP Energy Limited, as well as a global network and analytical technology for energy data.
URL: https://enechange.co.jp/en/
■For inquiries
ENECHANGE Ltd.
pr@enechange.co.jp