2023.10.05
ENECHANGE EV Charge Receives The Good Design Award 2023
Service recognized for its user-friendly and cohesive design
ENECHANGE Ltd. (hereafter: "the Company") is pleased to announce that its charging service for EVs and PHEVs, ENECHANGE EV Charge, has been chosen as a winner of the Good Design Award 2023, which is organized by Japan Institute of Design Promotion (JDP). The service was highly regarded for its well-integrated user experience design, encompassing the processes of "finding charging ports", "charging", and "making payments".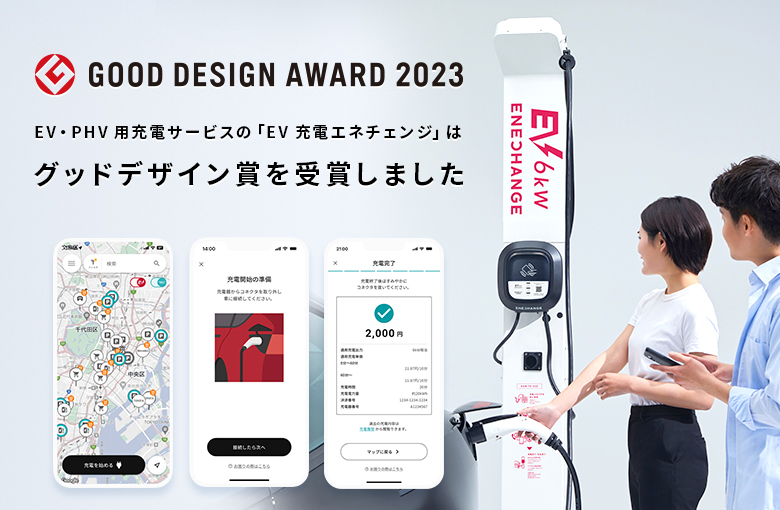 Overview of the award-winning ENECHANGE EV Charge
Against the backdrop of the Japanese government's goal to make the ratio of electric vehicles in new car sales 100% by 2035, ENECHANGE EV Charge was launched in November 2021. The service uses Level 2 charging and has been introduced in all 47 prefectures of Japan. EV users can easily and quickly start charging by scanning the QR code of the charging ports via an app or the web. Moreover, charging cards issued by e-Mobility Power and various automotive OEMs are also accepted. The app design emphasizes the ease of finding and operating the charging ports, enhancing user experience. ENECHANGE EV Charge aims to achieve decarbonization by establishing the necessary EV charging infrastructure.
Comments from the Good Design Award Committee
The infrastructure development for EVs, which are transitioning from a social introduction phase to a full-scale proliferation phase, is becoming increasingly crucial. Looking ahead to further proliferation of EVs, not only technical aspects like fast and high-capacity charging but also the design experience of searching for a charging port, completing a charging session, and making payments are required. This service, from hardware infrastructure to charging equipment design and smartphone UI design, is seamlessly and comprehensively designed with clarity and cohesiveness.
Awarded Work for ENECHANGE EV Charge:
https://www.g-mark.org/gallery/winners/16503
Special Page for "ENECHANGE EV Charge" Good Design Award:
https://ev-charge.enechange.jp/specials/gooddesign/
Comments from Ryosuke Hoshi, designer of ENECHANGE EV Charge
We believe that EV charging services, being vital infrastructure supporting daily life and transportation, should be hassle-free and taken for granted. During the development of the service, we not only conducted interviews with EV users but also regularly used EVs ourselves, ensuring that we truly empathized with the users. I am delighted that our efforts led to this award, and we remain committed to continuously improving our service.
Statement from Yohei Kiguchi, CEO of ENECHANGE Ltd.
Following the award for our energy comparison site ENECHANGE in 2016, we are honored that ENECHANGE EV Charge has received the Good Design Award. We take this recognition as a significant encouragement, and we will continue to evolve our pursuit of usability, accelerating the spread of EVs in Japan and working towards the realization of carbon neutrality by 2050.
About The Good Design Aware
Established in 1957, Good Design Award is Japan's leading design commendation system. Products, architecture, apps and software, projects and initiatives that utilize design and more are eligible for consideration. Through this system, many people come in contact with "good design" and appreciate their value. The recognition rate of the award is 84%*, with its symbol, G-Mark, being widely familiar. 
*According to the latest survey by Japan Institute of Design Promotion in 2020.
ENECHANGE EV Charge
ENECHANGE EV Charge is an all-in-one service that allows installation of charging facilities for electric vehicles at commercial facilities, lodging facilities, and other destination locations, as well as condominiums, with minimal installation and operation costs starting at 0 yen per month. It currently has the highest number of installed EV charging ports in Japan. ENECHANGE EV Charge also offers a full range of services for EV drivers. In addition to searching for charging spots, anyone can use the charging ports at any time, with an appealing pay-as-you-go system without monthly fees. ENECHANGE EV Charge charging ports are now also compatible with e-Mobility Power-linked charging cards issued by various automotive OEMs, further increasing convenience.
URL: https://ev-charge.enechange.jp/
X: https://twitter.com/enechange_ev
ENECHANGE Ltd.
ENECHANGE is an energy technology company that promotes a net zero society through digital technology with the mission of Changing Energy For A Better World. We offer services based on data utilization in the field of the 4Ds of Energy: Deregulation, Digitalization, Decarbonization, and Decentralization. Our company's roots come from an energy data lab at the University of Cambridge, UK, a country where liberalization is mature. ENECHANGE has a UK subsidiary, ENECHANGE Innovation Limited, as well as a global network and analytical technology for energy data.
URL: https://enechange.co.jp/en/
■For inquiries
ENECHANGE Ltd.
pr@enechange.co.jp