2023.11.09
ENECHANGE's EVsmart Updates Regularly on EV Charging Station Installation Status, Providing Insights into Japan's EV Charging Infrastructure
Understanding the Current State of EV Charging Infrastructure in Japan through Data
ENECHANGE Ltd. (hereafter: the Company) is pleased to announce that its EV charging search site, EVsmart, now provides information on the location of charging locations nationwide, as well as the number of charging ports.
Background
The government has set a goal of achieving a 100% share of low-emission vehicles in new passenger car sales by 2035. To accomplish this, the government has announced plans to increase the installation of EV charging ports to 300,000 by 2030. However, the current number of fast charging and Level 2 charging ports combined remains at approximately 30,000. ENECHANGE, along with other charging infrastructure providers, is actively working to increase the installation of EV charging ports by utilizing government subsidies.
The Company is committed to ensuring a convenient and comfortable experience for EV drivers through initiatives such as the EV Charge ENECHANGE app and, since its transfer from Ayudante Co., Ltd. in September 2022, the operation of the EV charging location information site EVsmart and the EVsmart Blog, which provides the latest EV and EV charging information.
In EVsmart's new section called EV Charging Port Statistics, users can now access information about the nationwide charging location count trends and the trends in the number of charging ports by provider. This content will be regularly updated each month with more features anticipated in the future. By making the status of EV charging infrastructure in Japan accessible with up-to-date figures, we hope to build momentum for the development of public charging infrastructure.
≪EVsmart EV Charging Statistics≫
URL: https://evsmart.net/statistics-of-charging-spots/
Soliciting Requests for Listing of EV Charging Spots and User Reviews
The Company invites charging port operators and EV users to provide comprehensive and accurate information about Japan's EV charging locations, which change daily, to better serve EV users.
Charging Station Operators
By providing information through the website, users can list important details such as how to use the charging port, operating hours, and other relevant information free of charge on platforms including EVsmart and the ENECHANGE EV Charge app. Additionally, the Unregistered Charging Location Listing Request feature on the ENECHANGE EV Charge app makes it easy to input information directly onto the map.
Charging station operators can submit information here:
https://enechange.co.jp/contact/
EV Users
Through the ENECHANGE  EV Charge app, you can also submit requests for listing unregistered charging spots, as well as provide information on the availability of charging ports, user reviews, and photos on individual charging location pages. Your contributions will help create a safe and convenient environment for EV charging.
≪ENECHANGE EV Charge≫
App Store: https://apps.apple.com/jp/app/id911721775
Google Play: https://play.google.com/store/apps/details?id=net.evsmart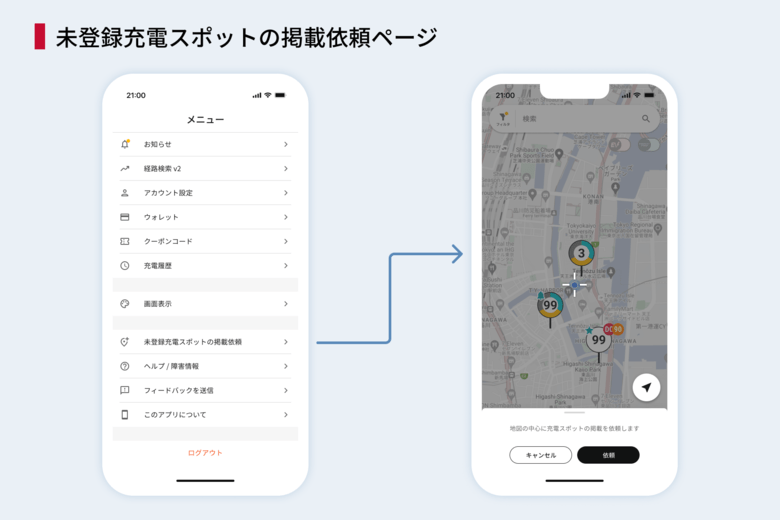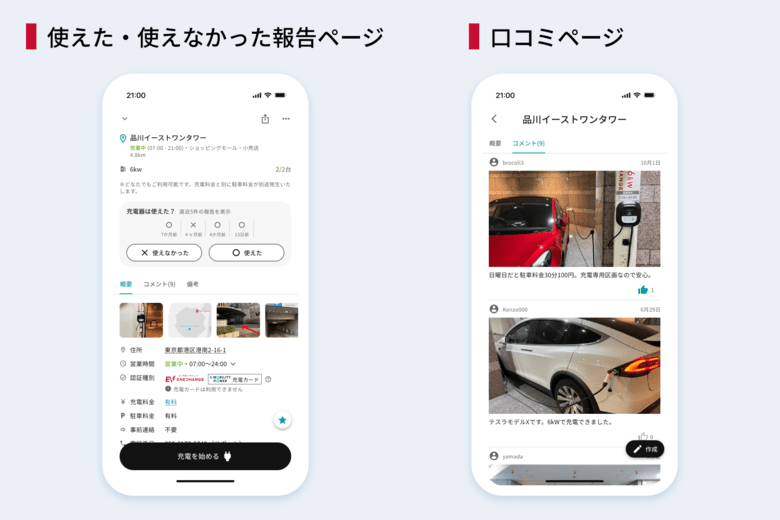 The Company will continue to pursue improvements in convenience for EV users, support the promotion of EV adoption, and contribute to the realization of a decarbonized society.
ENECHANGE EV Charge
ENECHANGE EV Charge is an all-in-one service to install charging facilities for electric vehicles at condominiums, commercial facilities, lodging facilities, and other destination locations starting at 0 yen per month. It currently has the highest number of installed EV charging ports in Japan. ENECHANGE EV Charge also offers a variety of services for EV users. Not only can you search for charging spots, but anyone can use the charging port at any time, paying only for what you use without a monthly fee. Charging is also possible using the charging cards issued by e-Mobility Power and various car companies. Its user-friendly design has been recognized with a Good Design Award for the fiscal year 2023. 
URL: https://ev-charge-enechange.jp/
X: https://twitter.com/enechange_ev
ENECHANGE Ltd.
ENECHANGE is an energy technology company that promotes a carbon-free society through digital technology with the mission of Changing Energy For A Better World. We offer services based on data utilization in the field of the 4Ds of Energy: Deregulation, Digitalization, Decarbonization, and Decentralization. Our company's roots come from an energy data lab at the University of Cambridge, U.K., a country where liberalization is mature. ENECHANGE has a UK subsidiary, ENECHANGE Innovation Limited, as well as a global network and analytical technology for energy data.  
URL: https://enechange.co.jp/en/
■For inquiries
ENECHANGE Ltd.
pr@enechange.co.jp