2022.05.19
Launch of the ENECHANGE EV Charging app, our one-stop app for EV charging with no monthly fees
ENECHANGE Ltd. has launched a dedicated smartphone application for the ENECHANGE EV Charging Service. The app allows users to search for EV charging spots that are being installed across the country. The app functions as a one-stop service: it allows users to check charger availability, register to start charging, and complete their charging session and pay, all without leaving the app.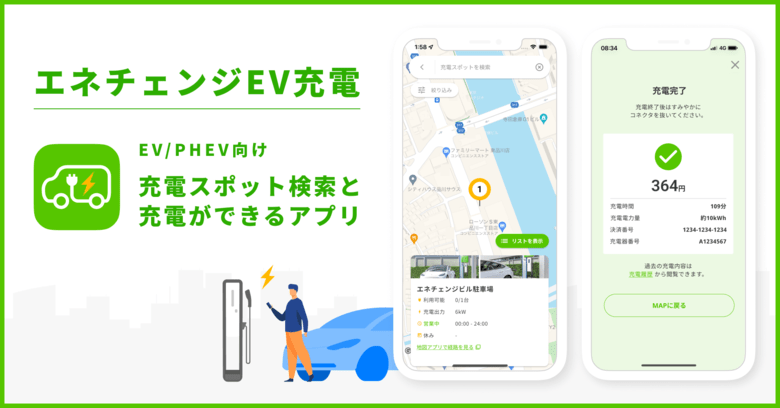 Overview of ENECHANGE EV Charging Application
Until now, EV charging services required users being issued a special card before they could actually charge. The ENECHANGE EV Charging Service has launched its dedicated app to allow EV drivers to charge their vehicles in a smart, hassle-free way. Morever, the ENECHANGE EV Charging Service aims to further spread EV charging infrastructure by installing EV charging stations. Combined with the app's one-stop functionalities, we hope to show drivers the potential and ease of EV use.
The ENECHANGE EV Charging app allows anyone to use EV and plug-in hybrid vehicle (PHEV) charging stations anytime they want, without monthly fees. In addition to searching for EV charging spots on a map and checking their availability of s, users can also register their user information on the spot for a one-stop service that includes checking the charging status, making payments, and checking usage history.
App features
One-stop EV charging spot search and charging
Search for EV charging spots on a map
Search by charging output
The map shows you which EV charging spots near your current location are available for charging
Provides directions to ENECHANGE EV charging spots with photos.
How to use the ENECHANGE EV Charging app
Download the ENECHANGE EV Charging app from the app store.
Launch the app and register user information
Register your credit card information.
Tap "Start Charging" on the map to prepare to start charging.
Scan the QR code on the ENECHANGE charging station with your smartphone's camera.
Connect the connector of the charger according to the displayed procedure.
Charging will start.
Charging is complete. You will be notified with a push notification.
App Store Information
About ENECHANGE EV Charging Service
The ENECHANGE EV Charging service allows installation of EV charging facilities at minimal cost, ideal for charging at public locations such as commercial facilities, lodging facilities, and other public destinations. To improve convenience for EV drivers, we promote the development of domestic EV charging infrastructure by providing EV charger hardware, applications for users, and charging management systems for site hosts.
ENECHANGE EV Charging Service website: https://ev-charging.enechange.jp/ *Japanese Only
About ENECHANGE Ltd.
ENECHANGE is an energy technology company that promotes a carbon-free society through digital technology with the mission of Changing Energy For A Better World. We offer services based on data utilization in the field of the 4Ds of Energy: Deregulation, Digitalization, Decarbonization, and Decentralization. Our company's roots come from an energy data lab at the University of Cambridge, U.K., a country where liberalization is mature. ENECHANGE has a British subsidiary, SMAP Energy Limited, as well as a global network and analytical technology for energy data.

URL: https://enechange.co.jp/en/
■For inquiries
ENECHANGE Ltd.
pr@enechange.co.jp
■For inquiries about the ENECHANGE EV Charging Service
EV Charging Service Division
ev-charging@enechange.co.jp