2023.09.07
ENECHANGE and You&Me Corporation Collaborate on EV Charging Infrastructure Development
Installing ENECHANGE EV Charge Ports in 7,300 Buildings and 93,000 Units of Condominiums Nationwide to Contribute to Decarbonization
ENECHANGE Ltd. (hereafter: "the Company") is pleased to announce its collaboration with You&Me Corporation (hereafter:"You&Me Corporation") on the expansion of ENECHANGE's EV charging infrastructure. The partnership aims to introduce ENECHANGE EV charging ports to "You&Me Mansions," encompassing 7,300 buildings and 93,000 units across the nation, with its base in Kagoshima Prefecture.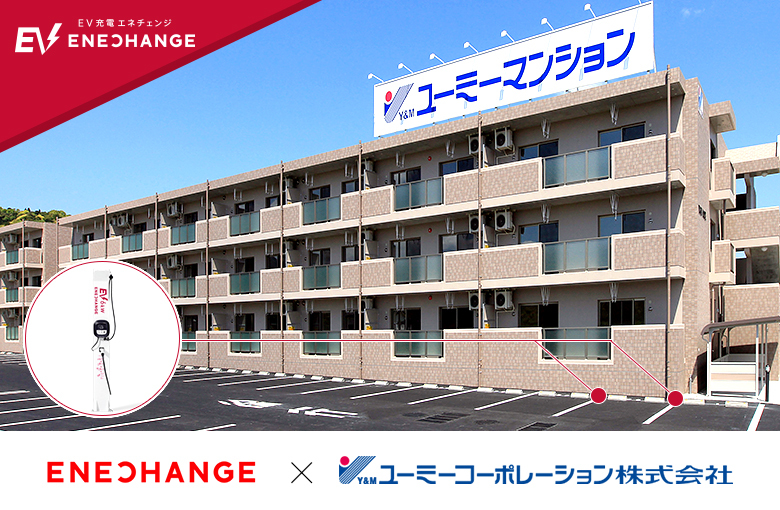 Background of the Partnership
The government has set a target to achieve a 100% ratio of electric vehicles (EVs) in new passenger car sales by 2035. To achieve this goal, there is a plan to increase the installation of Level 2 charging ports to 300,000 by 2030. For condominiums in particular, the target is to install 100,000 to 200,000 charging ports. This initiative seeks to enhance the charging infrastructure to enable over 10% of EV users residing in condominiums to charge their vehicles within their premises.
ENECHANGE has been actively developing EV charging infrastructure since November 2022, leveraging subsidies provided by the government. To facilitate the installation of Level 2 charging ports in condominiums, they have introduced the "Mansion Zero Plan." This plan eliminates installation costs, monthly fees, and electricity charges, and has garnered inquiries from across the nation.
You&Me Corporation operates the "You&Me Mansions" brand of reinforced concrete rental apartments through a franchise system across 64 companies and 70 areas nationwide. The brand boasts a construction track record of 7,300 buildings and 93,000 apartment units. The majority of You&Me Mansions are located in suburban and rural areas, serving residents who primarily use private vehicles. Each apartment unit typically has access to 1.5 to 2 parking spaces. The resident demographic consists mainly of young families in their 20s and 30s. Given these factors, an increase in EV demand is expected, prompting the aim to introduce ENECHANGE EV Charge in all managed properties by 2030. The utilization of ENECHANGE's "Mansion Zero Plan" is expected to enhance the condominium asset value without imposing additional burdens. Moreover, the convenience of residents will be improved due to the low-priced charging fee structure, generating excitement from both residents and condominium owners.
Comment from You&Me Corporation's Executive Managing Director and Head of FC Business Division, Atsushi Mitsukane
Our commitment to enhancing sustainability and resident convenience in living environments has led us to view Level 2 charging port installation as a necessity moving forward. While unique challenges pertaining to condominiums previously hindered easy implementation, our collaboration with ENECHANGE, which boasts a strong track record in Level 2 charging port deployment, enables us to expand charging port installations.
About You&Me Corporation
You&Me Corporation is a construction company engaged in sales, design, construction management, real estate rental brokerage, management, and after-sales maintenance. As a leading company in the field of reinforced concrete rental apartment construction through franchise expansion, You&Me Corporation aims to construct better business models that cater to diverse needs. (Based on a study by Tokyo Shoko Research in March 2022, "Number One in Rental Apartment Construction through Franchise Expansion.")
Name: You&Me Corporation
Address: 1-6-12 Ishiki, Kagoshima City, Kagoshima Prefecture, 890-0008, Japan
URL: https://cp.you-me.co.jp/
ENECHANGE EV Charge
ENECHANGE EV Charge is an all-in-one service that allows installation of charging facilities for electric vehicles at commercial facilities, lodging facilities, and other destination locations, as well as condominiums, with minimal installation and operation costs starting at 0 yen per month. It currently has the highest number of installed EV charging ports in Japan. ENECHANGE EV Charge also offers a full range of services for EV drivers. In addition to searching for charging spots, anyone can use the charging ports at any time, with an appealing pay-as-you-go system without monthly fees. ENECHANGE EV Charge charging ports are now also compatible with e-Mobility Power-linked charging cards issued by various automotive OEMs, further increasing convenience.
URL: https://ev-charge.enechange.jp/
X: https://twitter.com/enechange_ev
*Based on the number of installed EV charging ports (6kW) by a secure app-based service provider (as of August 2023, according to GoGoEV).
ENECHANGE Ltd.
ENECHANGE is an energy technology company that promotes a carbon-free society through digital technology with the mission of Changing Energy For A Better World. We offer services based on data utilization in the field of the 4Ds of Energy: Deregulation, Digitalization, Decarbonization, and Decentralization. Our company's roots come from an energy data lab at the University of Cambridge, U.K., a country where liberalization is mature. ENECHANGE has a British subsidiary, SMAP Energy Limited, as well as a global network and analytical technology for energy data.
URL: https://enechange.co.jp/en/
■For inquiries
ENECHANGE Ltd.
pr@enechange.co.jp