2022.06.14
ENECHANGE announces Five Recommendations for Energy Normalization
What is needed for stable electricity supply: innovation and consumer protection
ENECHANGE Ltd. is pleased to announce that it has prepared "Five Recommendations for Energy Normalization", a set of energy policy recommendations based on discussions with the Agency for Natural Resources and Energy, in response to the need for a fundamental review of energy policies against a backdrop of the recent sharp rise in resource procurement prices. This includes a revision of fuel procurement amounts.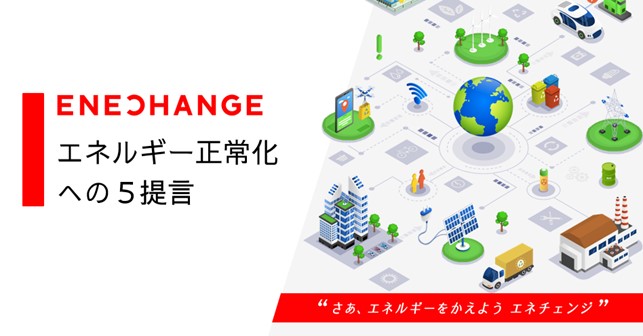 Current issues
For Japan, which is dependent on importing resources, soaring resource prices and a weakening yen have effects beyond the scope of management efforts by electric power companies. A crisis in the management of electric power companies could prompt excessive cost cutting and have enormous impact on consumers, such as delays in restoration efforts in the event of a disaster. In addition, in response to the trend toward decarbonization, aging thermal power plants are being decommissioned and shut down in rapid succession, and unstable power supply is expected not only to lead to higher electricity rates but also to the normalization of requests for power conservation, which will affect people's daily lives and industrial activities. Furthermore, electricity rates have begun to rise sharply, particularly for industrial use, and our energy switching service for corporates, ENECHANGE Biz, is receiving an endless stream of inquiries from customers who have been forced to halt their usual business by electricity rates that have more than doubled or by notices of contract termination during the contract period.
"Five Recommendations for Energy Normalization" by ENECHANGE
1. Promote smart power saving by all Japanese citizens
Given the growing importance of power saving (demand response services) for the entire nation, and to promote the spread of smart meters and competition in services, it is recommended that electricity retailers be encouraged to promote DR for households through new subsidies of approximately 30 billion yen*. Overseas, OhmConnect (California, U.S.A.) and other companies have prevented large-scale power outages through smart power saving for households.
*1 The "FY2021 Advanced Energy Conservation Investment Promotion Support Program" only covers industrial use.
2. Promotion of EVs and PHVs
We believe that the spread of EVs (electric vehicles) and PHVs (plug-in hybrid vehicles) will become more important as a strategy to introduce renewable energy by reducing fuel imports from overseas and utilizing surplus solar power. Compared to the 1 trillion yen gasoline subsidy, the EV/PHV and charging infrastructure subsidy is only a total of 60.5 billion yen*2. We should consider increasing the amount to 130 billion yen and changing the subsidy system to better suit the actual use of EVs and PHVs, by making the subsidy system available all year round through multi-year budgeting, removing restrictions on installation subsidies at business sites, etc. It is worth considering policy change that is in line with the actual use of EVs and PHVs.
*2. Subsidies for clean energy vehicles, including FCVs, etc.
3. Combat energy poverty
Due in part to high fuel prices, the domestic electricity price burden has increased by 30% compared to last April. Considering electricity rates in Japan, it is assumed that the majority of those in need are in the first tier (monthly electricity bill of 2400 yen/120 kWh) to the middle of the second tier (monthly electricity bill of 5000 yen/220 kWh). 300 billion yen*3 per year (150 billion yen for summer and winter each) is enough to ensure a wide range of people can be subsidized. Within the 1.1 trillion yen budget of the FY2022 supplementary budget for measures against high prices, why not consider subsidies for the energy-poor, equivalent to those for measures against soaring crude oil prices (1.2 trillion yen budget).
*3. Assuming that households paying less than 5,000 yen for electricity (10 million households) would receive a subsidy of 2,500 yen.
4. Change in fuel procurement due to Russian embargo and promotion of renewable energy
While the assumptions of Japan's energy strategy have changed significantly with the Russian embargo and the shift to renewable energy as the main power source, the fuel cost adjustment set by major electric power companies has not changed significantly since 2009. We believe that simplification of procedures is required to enable annual revision of fuel cost adjustments. We also suggest that retailers consider setting their own fuel cost adjustment in line with the procurement status of each company; a desirable practice which should be added to the guidelines.
5. Necessity of protecting consumers from the risk of resource price hikes
The Council and others have pointed out the need to protect consumers from the risk of fuel price hikes, since fuel cost adjustment transfers the risk of fuel price hikes to consumers. We suggest that the provision of a fixed price tariffs utilizing futures trading by electricity retailers be added to the guidelines as a desirable practice. In the United Kingdom, one of the leading countries in the deregulation of electric power, fixed price tariffs are popular, with approximately 40%*4 of customers using them.
*4. Based on an Ofgem survey in the U.K.
About ENECHANGE Ltd.
ENECHANGE is an energy technology company that promotes a carbon-free society through digital technology with the mission of Changing Energy For A Better World. We offer services based on data utilization in the field of the 4Ds of Energy: Deregulation, Digitalization, Decarbonization, and Decentralization. Our company's roots come from an energy data lab at the University of Cambridge, U.K., a country where liberalization is mature. ENECHANGE has a British subsidiary, SMAP Energy Limited, as well as a global network and analytical technology for energy data.

URL: https://enechange.co.jp/en/
■For inquiries
ENECHANGE Ltd.
pr@enechange.co.jp