2023.10.13
ENECHANGE EV Charge Exhibiting at JAPAN MOBILITY SHOW 2023
Experience a More Convenient Future with Our EV Charging Infrastructure Display!
ENECHANGE Ltd. is pleased to announce that we will be showcasing our EV charging service, ENECHANGE EV Charge, with a dedicated booth at the JAPAN MOBILITY SHOW 2023. The event,which is open to the public, will take place from October 28th to November 5th, 2023, at Tokyo Big Sight in Koto-ku, Tokyo.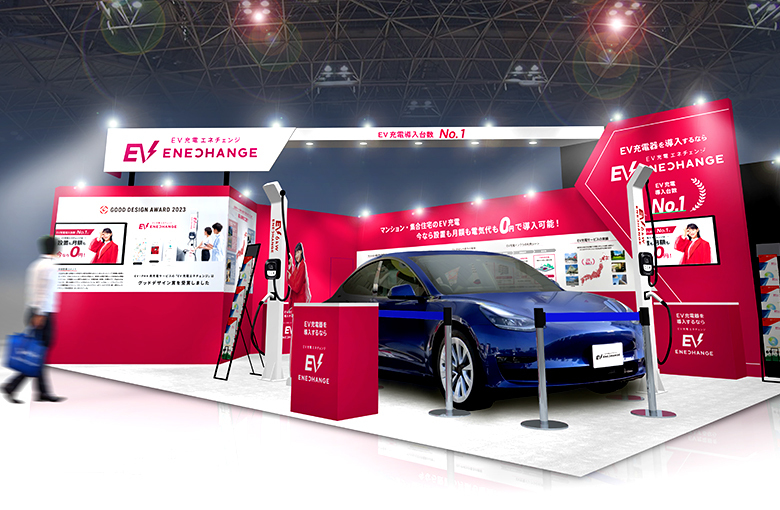 About ENECHANGE EV Charge
Considering the Japanese government's target to make the ratio of low-emission vehicles in new passenger car sales 100% by 2035, ENECHANGE EV Charge was created in November 2021. ENECHANGE EV Charge is an all-in-one service that enables the introduction of EV charging facilities with zero installation and monthly fees, minimizing operational hassle and cost. Roughly 1.5 years since its launch, it has achieved a cumulative total of 6,482 ports ordered, establishing a record as the No. 1* in EV charging operator in Japan. In addition to being introduced at accommodation and commercial facilities across all 47 prefectures, as well as at condominiums and businesses, it is accelerating the popularization of EV charging facilities by forming agreements with municipalities aiming to become zero-carbon cities. About 60% of EV users can use their automotive OEM-linked charging cards just by holding them over the charging ports, and the dedicated app allows a series of operations, such as "Find a charger," "Charge," and "Pay." The infrastructure has been recognized for its high usability and was awarded the Good Design Award in FY23.
*Based on the number of installed EV charging ports (6kW) by a secure app-based service provider (as of September 2023, according to GoGoEV).
The Future of EV Charging Envisioned by ENECHANGE
With"Creating the Future of Energy" as its mission, ENECHANGE invested in WiTricity through the Decarbonization Tech Fund in July 2022. To address the rapid electrification of mobility and realize a decarbonized society, we have partnered with WiTricity, a global pioneer in wireless charging for EVs, and are starting to explore the introduction of a Wireless Charging System that will become the new norm for EV charging. The innovative way of automatically charging wirelessly when parked not only makes the charging experience more convenient by eliminating the need to connect the charging port and vehicle with a cable but also expands its potential exponentially as the parked EVs can contribute to stabilizing the grid by acting as storage batteries. Also, ENECHANGE plans to introduce new services utilizing data derived from smart meters, taking advantage of the release of smart meter data that started in October 2023. After installing EV charging ports, we will provide consulting for reducing electricity costs suitable for each facility against the rise in electric fees due to increased usage.
Gacha Gacha Campaign Where Prizes Can Be Won
From October 28th to November 5th, we will conduct a campaign to present ENECHANGE EV Charge prizes. By either answering the survey, downloading the ENECHANGE EV Charge app on the spot, or exchanging business cards with staff, you can try your luck at a gacha gacha capsule machine where goods can be won.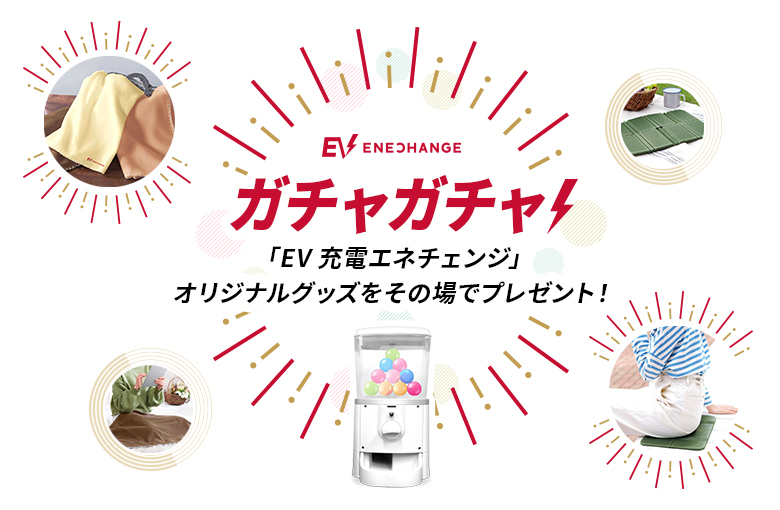 Campaign Name

JAPAN MOBILITY SHOW 2023 "ENECHANGE EV Charge" Booth [Win ENECHANGE EV Charge Prizes with Our Gacha Gacha Campaign!]

Duration

October 28, 2023 (Sat) to November 5, 2023 (Sun)

Note: Campaign is valid as long as stocks lasts

Content

You will receive a coin to participate in the campaign by doing one of the following:

・Answer a simple survey (takes approximately 1–2 minutes)

・Download the ENECHANGE EV Charge smartphone app on the spot

・Exchange business cards with staff

Please feel free to ask the staff at the ENECHANGE EV Charge booth for more details.

Note: The personal information obtained in this campaign will be handled appropriately according to ENECHANGE Ltd.'s privacy policy.
ENECHANGE EV Charge JAPAN MOBILITY SHOW 2023 Special Page
URL: https://ev-charge.enechange.jp/for_drivers/campaigns/23jms/
【JAPAN MOBILITY SHOW 2023】
Date: October 28, 2023 (Saturday) to November 5, 2023 (Sunday)
Time: 9:00 to 19:00 (Entry from 9:00 to 10:00 is only available to those with early entry tickets)
Location: Tokyo Big Sight, 3-11-1 Ariake, Koto-ku, Tokyo
     JAPAN MOBILITY SHOW 2023 EV Booth, East 5 Hall, Booth Number E5002
 Press Briefing
A press briefing will be held for media personnel. We will explain the future prospects of ENECHANGE EV Charge.
Date and time: October 26th, 2023 (Thu) 9:45–10:00
Location: JAPAN MOBILITY SHOW 2023 EV Booth, East 5 Hall, Booth Number E5002
ENECHANGE Ltd.
ENECHANGE is an energy technology company that promotes a net zero society through digital technology with the mission of Changing Energy For A Better World. We offer services based on data utilization in the field of the 4Ds of Energy: Deregulation, Digitalization, Decarbonization, and Decentralization. Our company's roots come from an energy data lab at the University of Cambridge, UK, a country where liberalization is mature. ENECHANGE has a UK subsidiary, ENECHANGE Innovation Limited, as well as a global network and analytical technology for energy data.
URL: https://enechange.co.jp/en/
■For inquiries
ENECHANGE Ltd.
pr@enechange.co.jp