2021.06.16
ENECHANGE and Summit Energy, Sumitomo Corporation Group company, start Demand Response verification testing for households using smart devices, responding to demands for energy saving in times of tight power supply and demand
ENECHANGE Ltd. (Head Office: Chiyoda-ku, Tokyo; Representative Director & CEO: Yohei Kiguchi; Representative Director & COO: Ippei Arita) will partner with Summit Energy Corporation (Head office: Chiyoda-ku, Tokyo; President and CEO: Junji Ozawa), a Sumitomo Corporation Group company, through the Demand Response Service "SMAP DR" for households serviced by ENECHANGE subsidiary SMAP Energy Ltd. (Head Office: London, UK; CEO: Yohei Kiguchi). We will begin verification testing of Demand Response (DR) using smart devices targeting Summit Energy's electricity plan for household subscribers from fall 2021.The project will be undertaken in anticipation of the need to create a scheme that can flexibly provide adjustment capacity, such as DR, as renewable energy becomes the main power source, and aims to create a scheme that can respond to requests to save electricity in winter and summer when the supply and demand of electricity are predicted to be tight in the future. 

In the new Basic Energy Plan, the ratio of renewable energy to total energy consumption has increased to 30%, and the decarbonization of energy sources, especially through the implementation of renewable energy, is fast moving toward the goal of realizing a carbon-free society by 2050. If the ratio of renewable energy sources, starting with solar power, increases, the business of balancing supply and demand in accordance with changes in output will be essential. ENECHANGE believes that the promotion of renewable energy and demand control need to be pursued in tandem and launchedSMAP DR in 2018. SMAP DR is a DR service for households, and is an initiative to create consumer-side adjustment capacity. So far, we have been providing behavioral DR, but in partnership with Summit Energy, we will expand to DR targeting device control through smart devices.
Smart Device SMAP DR, a DR for households
Utilizing our company's DR platform for households, SMAP DR, Summit Energy and its subscribers will collaborate to save electricity. Energy-saving activities that utilize remote control of smart devices linked to appliances that can be reliably controlled are more effective, as they can realize DR with a higher degree of certainty than behavioral DR.
≪Smart device DR verification test scheme≫
The day before the DR activation date, users receive email notifications of the next day's power-saving collaboration time slot. On the day of DR activation, electricity is aimed to be saved by controlling target home appliances such as refrigerators, which are linked to smart devices in advance for a certain period of time via a smart device. Points are awarded according to the amount of electricity saved, and benefits are returned to participants based on the number of points obtained. Participants are able to acquire more points by adding energy-saving actions through behavioral changes.

≪Expected effects≫
In addition to the simultaneous control of 3 million refrigerators with 100W energy consumption, when combined with saving electricity through behavioral changes, it will be possible to secure approximately 1.1 million kW* of adjustment capacity. This adjustment capacity, which is equivalent to the amount of one nuclear power plant, can not only be used to reduce the risk of price hikes by reducing the amount of electricity procured when the market rises but can also be used as an adjustment capacity that can reliably respond to DR commands through remote control using smart device-linked DR. In the future, it can also be expected to generate new profits, including participation in the adjustment capacity market.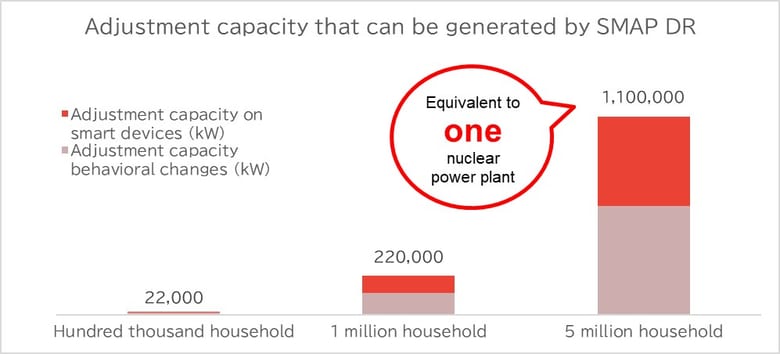 Using the performance of SMAP DR, the annual change through behavioral DR per household is 86.4 kWh, and the annual change through device control DR is 14.4 kWh, based on the cooling effect after the refrigerator is powered off.
≪The Scheme with Summit Energy Corporation≫
Using smart device DR services, we will develop a special tariff offering for the adjustment capacity provision, with the aim of creating new energy value associated with the creation of adjustment capacity for households. After the verification tests, we plan to expand the number of customers to include Summit Energy's electricity retailers.
Smart devices to be used
In these verification tests conducted with Summit Energy, smart devices manufactured by Link Japan were used. As the first company in Japan to specialize in home IoT, Link Japan has shipped 300,000 units, has a 7-year track record of stable operation, and has the capability to control quality as it has supplied products to energy-related companies. In addition to its own products, Link Japan has partnerships with many major manufacturers. Its HomeLink app provides integrated management of each of these companies' products, making it one of the best apps in Japan for managing a variety of products. For this current smart device DR, remote home appliance control using eRemote5 and ePlug will be conducted.
Examples of prior smart device DR overseas: The example of OhmConnect, Inc. (USA)
OhmConnect provides return to user virtual power plant (VPP) solutions to households in North America. It currently has 500,000 users and more than 100MW of reducible resources. Similar to the smart device-based SMAP DR, when electricity demand reaches a peak, users of this particular scheme reduce their power consumption through their smart devices and are awarded cash or prizes based on the amount of reduction. It also supports immediate response. A clear example of this is in California in August 2020, when the power grid was destabilized by a fierce heatwave. With the cooperation of more than 150,000 users, 1GW of power was saved during peak hours, preventing continuous power outages.
*From the company's press release.
Comments from Mr. Junji Ozawa, President and CEO, Summit Energy Corporation
Amidst the growing popularity of renewable energy sources whose power generation output fluctuates depending on weather conditions, active demand control using smart devices will become a powerful tool for supply and demand management, and I am grateful for the opportunity to participate in such an initiative. Since our establishment, our company has been engaged in upgrading our supply and demand management and risk management expertise to help us gain a competitive advantage. By consolidating the insight we possess, we would like to contribute to society through the development of menus and schemes that advance a stable energy supply.
Comments from Mr. Shinichi Kachiyasu, CEO, Link Japan Inc.
In recent years, major countries around the world have announced CO2 reduction targets in quick succession. As the cost of solar panels, storage batteries, and electric vehicles are declining, society is approaching the age of renewable energy. However, in order to reach these targets quickly, energy-saving technologies need to evolve at the same time. DR, as one of the representative examples of energy-saving technology, has a high affinity with IoT technology, and we have been focused on it since the establishment of our company. We are very pleased to be able to partner with ENECHANGE in this manner and work together to contribute to a carbon-free society.
Comments from Mr. Yohei Kiguchi, Representative Director & CEO, ENECHANGE Ltd.
SMAP DR is a service that aims to reduce demand through behavior changes during periods such as summer and winter, when electricity demand is expected to suddenly increase and exceed the amount of electricity available. We have tested this service since 2018. In partnership with Summit Energy, we are very pleased to be able to work on a new DR scheme that utilizes smart devices to control devices, in addition to the behavioral DR. In Japan, electricity data that can be obtained from smart data is scheduled to be provided to third parties in 2022. In the future, we would like to develop this into a platform that allows many more people to participate and connect it to demand control resources as one way to increase the ratio of renewable energy.
Summit Energy Corporation
Summit Energy is an electric power retailer, a wholly-owned subsidiary of Sumitomo Corporation, and was established in 2001, just after the liberalization of the electric power industry in Japan. Summit Energy is also involved in the field of power generation, with five power plants of its own and a value chain that extends from power generation to retailing, and has maintained consistent and stable operations backed by Sumitomo Corporation's strong financial base. In addition to the advanced analysis of supply results that Summit Energy has cultivated over the years, it has developed a range of contract menus to meet the needs of its customers. By combining this with its advanced capacity to procure power sources, it is providing added value that differentiates them from other companies in the industry.
Link Japan Inc.
Link Japan is a home IoT specialist company established in 2014. Since its establishment, Link Japan has released many products and technologies that were firsts in Japan, and in particular, its smart remote control, which it has been selling since its establishment, has come to be known as a symbol of smart devices. The CO2 sensor eAir, a dense visualization product released to protect against COVID-19, has also been featured in many media outlets and has been introduced by the Ministry of Health, Labour and Welfare. Its strength is remote sensing and remote control using IoT technology.
About ENECHANGE Ltd.
ENECHANGE is an energy technology company that promotes a carbon-free society through digital technology with the mission of CHANGING ENERGY FOR A BETTER WORLD. We offer services based on data utilization in the field of the 4 Ds of Energy: Deregulation, Digitalization, Decarbonization, and Decentralization. Our company's roots come from an energy data lab at the University of Cambridge, UK, a country where liberalization is well advanced. ENECHANGE has a British subsidiary, SMAP Energy Limited, as well as a global network and analytical technology for energy data.
URL: https://enechange.co.jp/en/
■Contact information
ENECHANGE Ltd.
Mail: pr@enechange.co.jp