2023.10.06
ENECHANGE publishes information on the use of GPT-4 after its introduction to all employees
The internal utilisation rate is 76%, with efficiency improved by an average of 44%
ENECHANGE Ltd. (Head Office: Chuo-ku, Tokyo; Representative Director & CEO: Yohei Kiguchi) has been reforming its operations by introducing GPT-4 to all employees and GitHub Copilot to all engineers since April 2023. Six months after the announcement of the company-wide introduction, 76% of all employees use GPT-4 in their work, and efficiency has improved by an average of 44%. In addition, 75% of all engineers use GitHub Copilot in their work, with an average 37% improvement in efficiency. The company will also introduce some examples of how it has started to utilize it through repeated trial and error, working together internallysince its company-wide introduction.
GPT-4 introduction highlights
In April, the introduction of ChatGPT Plus started as a company-wide, cross-sectional project under the new CTO Arita, one of our founding members and former COO, with some applicants starting to use ChatGPT Plus in advance. At the same time, all engineers started using GitHub Copilot, a software development support tool. As early as May, with security measures and internal rules in place, company-wide use of ChatGPT Plus began in earnest after guidelines for ChatGPT use were drawn up for all employees. In June, ChatGPTBot was introduced to the business chat tool Slack, allowing employees to use GPT-4 easily. Logging and filtering functions were also added to enable employees to utilize the ChatGPTBot securely. At this time, the company migrated the development of ChatGPTBot functions from OpenAI to the highly secure Azure OpenAI Service. Since July, the company has appointed a GPT utilization promotion officer in each department and have set a target of improving operational efficiency by 30% in the area of work for which they are responsible. The scope has also been expanded to include the use of a wide range of generative AI such as DALL-E, DeepL and Notion AI.
Survey background
The introduction of GPT-4 to all company-wide operations and GitHub Copilot to all engineers was considered important for maintaining competitiveness as an energy tech company and high motivation among engineers by providing employees with an environment where they can come into contact with cutting-edge technology. In order to measure the state of use and effectiveness of the system, regular company-wide surveys have been conducted, and six months after the announcement of the company-wide introduction, we can see how the system has been used. There have also been cases where people with no development experience have developed the software, and we are measuring the improvement of our business by incorporating these tools into our operations through repeated trial and error, with everyone in the company cooperating with each other.
Survey results summary
76% of people are using GPT-4. Internal users experience an average 44% improvement in efficiency.
75% of people use Github Copilot. The main purpose of use is 'code auto-completion'Detailed survey results
Detailed survey results
 76% of people are using GPT-4. Internal users experience an average 44% improvement in the efficiency of the operations they use.
・Do you use ChatGPT (*1)
76% said yes and 24% said no. Of these, 100% of engineers said they use ChatGPT, with reasons given for not using ChatGPT including 'don't see the need', 'don't know how to use it' and 'security concerns'.
*1. Our ChatGPTBot mainly utilizes GPT-4.The whole company is moving to the use of ChatGPTBot. In addition, some users continue to utilize ChatGPT Plus.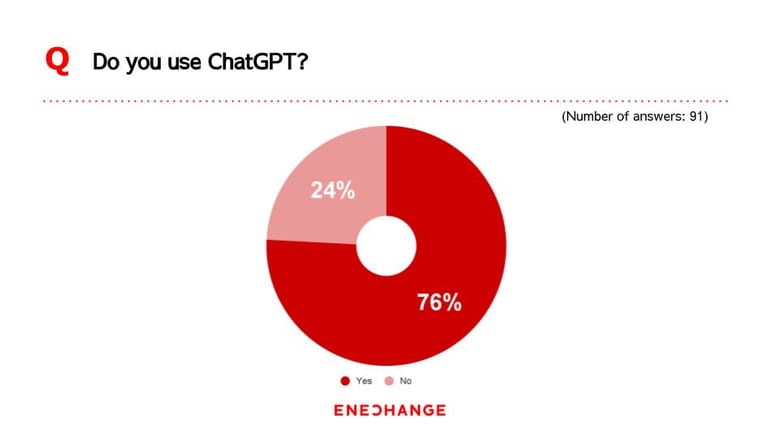 ・Purpose of using ChatGPT (multiple answers)
51% of the respondents said that they use the system for 'information retrieval', 40% for 'system development', 33% for 'writing business documents', 24% for 'replying to emails and chats', and 27% for 'summarizing documents'.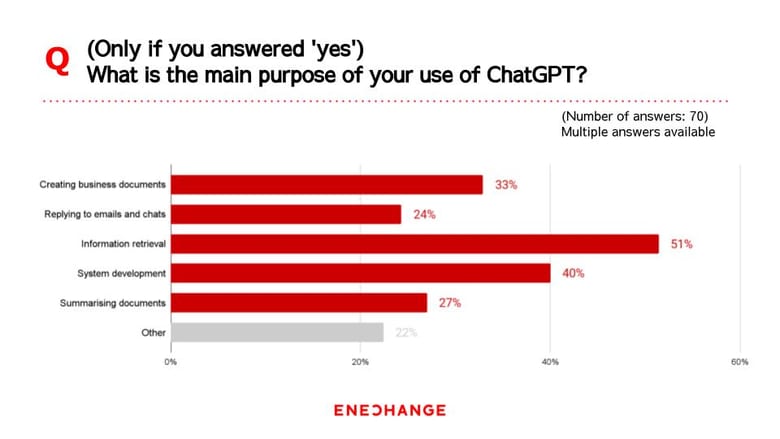 ・Improvements in operational efficiency through ChatGPT
Internal users of ChatGPT experienced an average of 44% improvement in efficiency.
 2. 75% of people use Github Copilot. The main purpose of use is 'code auto-completion'
・Do you use Github Copilot
75% answered Yes and 25% answered No, with engineers not using Github Copilot stating that they are 'not doing development tasks', 'no coding opportunities', or 'performing managerial duties'.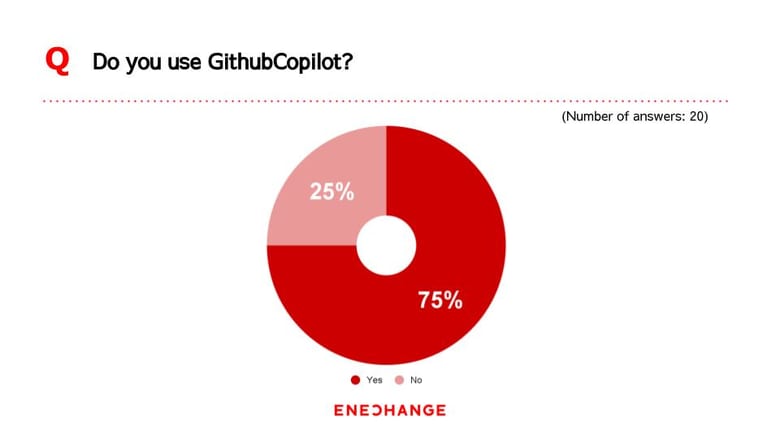 ・Purposes of using Github Copilot (multiple responses)
'Code auto-completion' 100%, 'Code optimisation' 29%, 'Bug fixing' 7%, 'Learning new technologies' 7%.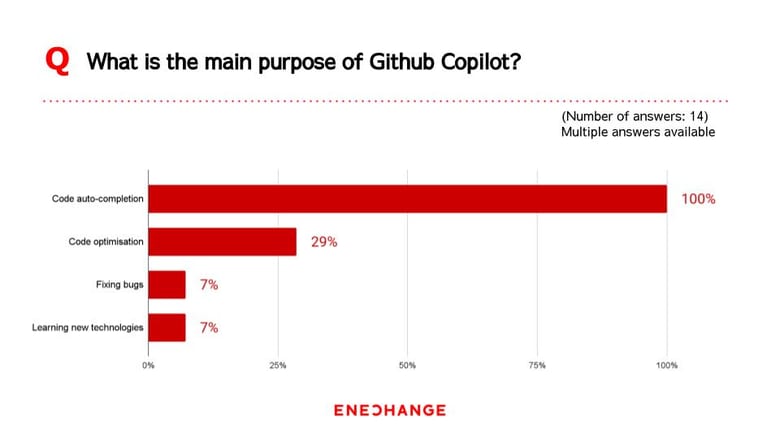 ・Improved operational efficiency with Github Copilot
Internal users of Github Copilot experienced an average of 37% improvement in efficiency.
Summary of internal questionnaire
Survey period: 1 August 2023 – 30 August 2023
Surveyed by: all employees of ENECHANGE Ltd.
Survey method: internet survey
Number of questionnaires collected: 92
By job type: clerical 30.4%, engineering 23.9%, sales 16.3%, director 5.4%, corporate 10.9%, other 13.1%.
The content of this press release is based on valid responses to an internal survey conducted by the company in August.
ChatGPT use cases
● Effective in automating a huge amount of routine day-to-day work and speeding up new developments (Director)
A system was developed to automatically judge and notify comments on the company-operated EVsmart application (*2). Originally, nearly 100 user comments were manually checked by data management staff every day. To reduce this workload, we started developing a system for automated comment analysis and scoring using ChatGPT around February 2023. Prompts were created using ChatGPT to automatically identify comments that contained violations of terms of use, etc., and engineers from the development team within the same business unit were responsible for prototyping and actual development of the relevant system. By linking this system to Slack, there were instant notifications on reviews both positive and negative, which significantly reduced the man-hours required for daily verification work. In addition, good comments can be considered for horizontal deployment as good practice, while our challenges and improvements needed comments allow us to immediately identify situations that need to be addressed. In the future, we would like to use this system to improve the services of other divisions by developing it horizontally within the company.
*2 The EV charging spot search app EVsmart was integrated into the ENECHANGE EV Charge app in June 2023.
https://enechange.co.jp/news/press/evcharge-app/
● Used for development in an environment where employees feel safe and secure. Smoothly clear issues even in different languages (Engineer)
ChatGPT enables us to develop in multiple languages, including JavaScript, PHP, Go and Ruby. When the business was transferred from another company, we needed to work on a language area that the team did not support at the time, and ChatGPT has helped us generate code for the requirements and test code. Even for experienced engineers, learning a new language is not an easy task, but ChatGPT has enabled us to handle multilingual development. In addition, our clients are becoming increasingly global and ChatGPT has been a great help in our ability to translate foreign languages required in our work. ChatGPT's translation function is very useful as we need to communicate in a way that is appropriate for each region.
We encourage the active use of ChatGPT for our engineers, but on the other hand, as 'code is an asset', simply copying and pasting code that could be generated by artificial intelligence is prohibited. In addition, Azure OpenAI Service is used for the ChatGPTBot in Slack to maintain security, and as it is led by the CTO's office and operational methods are properly set up within the company, we can handle our daily tasks such as coding and email communication without worry.
● I can use my work with peace of mind because of the presence of a reliable team of engineers who are easy to talk to (Office work)
Although I am not an engineer myself, I am developing a system that uses ChatGPT to improve the efficiency of administrative tasks and reduce human error. In the past, when new initiatives were needed in our business, we had to ask an engineer to develop the system. Now, however, ChatGPT enables us to proceed directly with development work, for example, by having Google Apps Script prompts generated by ChatGPT.
When we started developing, we started with simple tasks such as automatically changing cell colours in Google spreadsheets. Gradually, we started to develop more complex systems, such as Slack notification functions linked to external applications. More recently, we have also developed a function to automatically answer Q&A questions about our area of responsibility via Slack.
When faced with development difficulties, I have consulted engineers within the company and found solutions based on their advice. The fact that I was able to implement the system with help from the engineers on the nuts and bolts of system integration and development techniques has given me confidence that I can do it. Today, I am able to actively promote development using ChatGPT on my own. I was able to take a new step forward with peace of mind as I could easily consult and engineers who could give me appropriate advice.
Comment from Ippei Arita, CTO, ENECHANGE Ltd.
About six months have passed since the announcement of the company-wide introduction of the GPT-4 and, having incorporated these tools into operations through repeated trial and error, we can now see the state of utilization and its results.
It has been particularly effective in development and coding tasks, and even sales and administrative staff have created their own macros to automate tasks. It is also very good at translation and document generation, and is used for everything from business documents and email texts to PR drafting.
Generative AI is still in its infancy and applications will become more and more active. We will continue to utilize it to improve operational efficiency and at the same time work to apply it to solving problems and creating added value in the energy sector.
ENECHANGE Ltd.
ENECHANGE is an energy technology company that promotes a net zero society through digital technology with the mission of Changing Energy For A Better World. We offer services based on data utilisation in the field of the 4Ds of Energy: Deregulation, Digitalization, Decarbonization, and Decentralization. Our company's roots come from an energy data lab at the University of Cambridge, U.K., a country where liberalisation is mature. ENECHANGE has a British subsidiary, ENECHANGE Innovation Limited, as well as a global network and analytical technology for energy data.
URL: https://enechange.co.jp/en/
■For inquiries
ENECHANGE Ltd.
pr@enechange.co.jp