2023.09.04
ENECHANGE to develop EV charging app for ENEOS EV charging service ENEOS Charge Plus
Provides app development, operation and maintenance services to improve the charging experience and convenience for users
ENECHANGE Ltd. (Head Office: Chuo-ku, Tokyo; Representative Director & CEO: Yohei Kiguchi, PhD) has been commissioned by ENEOS Corporation (Head office: Chiyoda-ku, Tokyo; President: Takeshi Saito; hereafter, ENEOS) to develop an EV charging application to be used with its EV charging service, ENEOS Charge Plus. The service will be available as the ENEOS Charge Plus EV charging application from 5 September 2023.

ENECHANGE is developing the ENECHANGE Cloud EV solution for EV service providers, which utilises the know-how of its own ENECHANGE EV Charge application, including the development and operation of EV charging applications and its database of nationwide EV charging locations.
The newly developed ENEOS Charge Plus EV charging app provides a one-stop shop for charge port search, charging operations, authentication and payment functions. Through the development of this app and the provision of post-release operation and maintenance services, ENECHANGE will contribute to improving the charging experience and convenience for app users.
Background
To achieve carbon neutrality in 2050, the government has set a target of 100% electrification of new passenger car sales by 2035, and in terms of charging infrastructure, the government has published draft guidelines for the development of 300,000 EV chargers by 2030.
Since its establishment in 2015, ENECHANGE has been tackling energy issues and developing businesses that contribute to the utilisation of energy data and the expansion of EV charging infrastructure. In February 2023, the SaaS cloud service that has been provided to power companies and EV charging service providers was revamped and its functions expanded as 'ENECHANGE Cloud'. SaaS cloud services in the areas of Marketing, DR (Demand Response), EV (Electric Vehicles) and RE (Renewable Energy) are provided.
Development of the ENEOS Charge Plus application
ENEOS is developing and strengthening its next-generation energy supply and local service businesses to realise the Group's long-term vision for 2040, aiming to provide a total range of mobility- and lifestyle-related services in addition to energy supply. As part of this, the company is expanding its charging network to meet the charging needs of EV users.
The ENEOS Charge Plus EV charging application was developed using the 'ENECHANGE Cloud EV' solution provided by ENECHANGES. The 'ENECHANGE Cloud EV' uses know-how gained from the development and operation of the 'ENECHANGE EV Charge' service, which has been available from 2022, to reduce the time required to define requirements and design the basic functions of the application, which normally have to be studied from scratch, and to achieve efficient development that is tailored to fit the user's needs.
Furthremore, it can easily be linked to the location information of the many (*1) charge ports held by the ENECHANGE Cloud EV database.
In the future, the Company will continue to contribute to ENEOS' goal of providing highly convenient charging services by responding to the diverse needs of EV users.
*1. The EV charging port location information API of EVsmart is being provided as a service of ENECHANGE Cloud EV.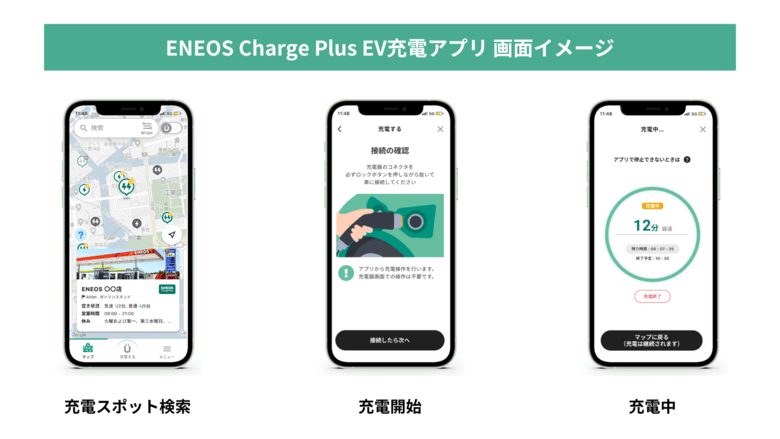 Comments by Takahiro Kashiwagi, Executive Officer, ENECHANGE Ltd.
We are pleased to announce that we will be providing the ENEOS Charge Plus EV charging application with our know-how gained from the development and operation of our ENECHANGE EV Charge application, as well as services such as nationwide EV charging port location information. We will support the provision of the high-quality charging services that ENEOS is aiming for, and we will continue to respond to the diverse needs of users and promote a society in which EV users can use EVs more comfortably.
About ENECHANGE CLOUD EV

ENECHANGE Cloud EV provides development and operation of apps for EV users. It utilizes data from EVsmart (*2), one of Japan's largest EV media and an EV charge port location search app with a cumulative total of 220,000 downloads, and know-how from ENECHANGE EV Charge, which is operated in-house. It also holds a database of nationwide EV charge port location information, which it provides access to via API.
ENECHANGE cloud service website
URL : https://enechange.co.jp/e_cloud-lp/
*2 The EV charging spot search app EVsmart was integrated into the ENECHANGE EV Charge app in June 2023.
https://enechange.co.jp/news/press/evcharge-app/
About ENEOS Charge Plus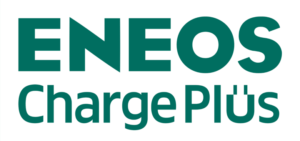 ENEOS Charge Plus is an electric vehicle route charging service provided by ENEOS Corporation. The company offers a charging membership service with no basic fee. Multiple payment methods (ENEOS Charge Plus EV charging application, ENEOS Charge Plus member charging card, EneKey, credit card payment, WAON, nanaco) can be used. Unique quick chargers with enhanced convenience, such as easy-to-read operation screens, are being developed.
URL : https://www.co.jp/chargeplus/
ENECHANGE Ltd.
ENECHANGE is an energy technology company that promotes a net zero society through digital technology with the mission of Changing Energy For A Better World. We offer services based on data utilization in the field of the 4Ds of Energy: Deregulation, Digitalization, Decarbonization, and Decentralization. Our company's roots come from an energy data lab at the University of Cambridge, UK, a country where liberalization is mature. ENECHANGE has a UK subsidiary, ENECHANGE Innovation Limited, as well as a global network and analytical technology for energy data.
URL: https://enechange.co.jp/en/
■For inquiries
ENECHANGE Ltd.
pr@enechange.co.jp